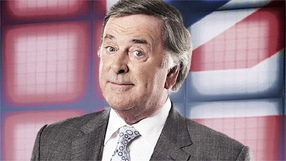 Terry Wogan, the UK's voice of Eurovision, has questioned the country's future participation in the contest.
Andy Abraham finished joint last and was Wogan's wildcard choice at the UK final. Wogan said," "It's a disappointment, considering that Andy Abraham gave, I think, the performance of his life with a song that certainly deserved more marks than it got. You have to say that this is no longer a music contest." He continued ""Western European participants have to decide whether they want to take part from here on in, because their prospects are poor."
He also gave a hint about his own future, ""I have to decide whether I want to do this again. I'm afraid nobody loves the UK, it just isn't funny anymore."
Links
In my view
If Wogan never commentates again, then some good will have come out of last night. He fails to see why the UK continues to do so badly. It's simple really; we don't send a good enough song. He moans that western European countries don't stand a chance anymore and conveniently for his argument, puts Finland into the eastern bloc.

It's hard to argue against the top 10 this year. Of course, there are a couple of exceptions in terms of the quality of the song, that should have finished lower, but the staging of those songs would have attracted voters.

I do believe though, that the EBU must change the rules so that only the participating countries vote in the final.

The opinion expressed in "In my view" are those of the author and are not necessarily the one of EuroVisionary.com.