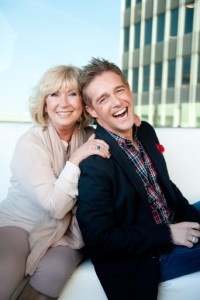 Since representing the Netherlands in 1994 with Waar is de Zon?, Willeke Alberti shyed away from the spotlight. Although no longer in the public eye as at much as before, the popular songstress has nevertheless maintained her career. She is now enjoying renewed success with young Belgian schlager singer Christoff.
With public appearances and gigs almost every day, there's been no shortage of work for Willeke, considered by many to be something of a Dutch institution. Willeke's popularity has started to spread over the border to Belgium, following her collaboration with the fresh faced Flemish schlager singer, Christoff.
Christoff has long been a fan of Willeke's and says that he has had two huge dreams all of his life, one of them being to meet Willeke Alberti. He tells De Standaard that When Flemish broadcaster VTM approached him with the idea of a collaboration with the Dutch diva, Christoff thought to himself "No way! It's Willeke Alberti! She's like a queen in the Netherlands. Even now I have to pinch myself in the arm to see that it's true!". Willeke also comments on the duet, saying: "It's always great to hear things from Belgium. I lived there for 9 years and throuroughly enjoyed myself. The Belgian audiences are so amazing, so intelligent and have always treated me with great respect. And their dialect is so beautiful!"
Their duet Niemand Laat Zijn Eigen Kind Alleen (No one Leaves Their Child On Its Own) is, according to Willeke a very special song for her :"It was the last song of my father. Christoff interprets it superbly. From the first time he performed it, it brought tears to my eyes." Apparently most of the Flanders region would agree with her, as their song has shot to the top of the charts a mere 3 weeks after its release. A contract has not yet been signed for a future Dutch release of the single, but neither singer rules out the possibility. Whatever the outcome, Willeke is welcomed back with open arms and it's great to see her fan base grow and to be back where she belongs!
Links
Willeke Alberti's official website
Christoff's official website