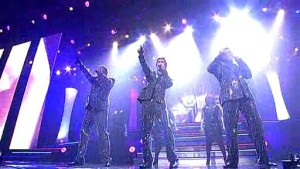 For a while we have known that De Toppers, or The Toppers as they will probably be called internationally, will be representing the Netherlands at the 2009 Eurovision Song Contest. Via an open selection 300 songs suggested was cut down to six – and now one song is clear for Moscow; Shine.
When The Toppers were initially selected internally to represent the country in Moscow this popular band consisted of  Gordon, Rene Froger and Gerard Joling. The relationship between Gerard, who represented the Netherlands back in 1988 with the song Shangri-la, and Gordon has always been a bit of a love-hate relationship. They have had many fights in the public both of them threatening to leave the trio. One of these fights turned in the early winter out to be more serious than before resulting in Gerard Joling quitting. He was replaced by Jeroen van der Boom and the Dutch broadcaster accepted his change in line-up and continued working with the new constellation about the 2009 Eurovision Song Contest.
The show started with 8-10 dancers in very colourfull custumes with feathers. A medley of some previous Dutch entries were playing in the background while the host entered the stage. He is explaining about the procedure and how The Toppers will be working on their Eurovision Song Contest performance during the next month. When introducing the jury he is pointing out that one of them, Tatjana Simic has Croatian background and therefore will be their Eastern expert judging which song will have best chance of getting points from Eastern Europe in Moscow. The jury consisted of Tatjana Simic (actress and singer), Daniel Dekker
(radio DJ), Emile Hartkamp (lyricist and producer), Getty Kaspers (lead
singer of the 1975 Eurovision Song Contest winner song Ding a dong) and Tony Berk (managing director of a record company and former DJ). The Dutch song will be picked by 70% televoting and 30% jury.
An open selection was held where more than 300 songs were sent in.
These songs where then cut down to the six songs that competed in the
Dutch final, the Nationaal Songfestival 2009, this evening. 
Our Night (Witten by Rutger Kanis and Robert Dorn)
Angels of the light (Witten by Edwin de Groot, Edwin van Hoevelaak and Bruce R.F. Smith)
Everybody can be a star (Witten by Ferdi Bolland)
Three is the magic number (Witten by Kees Tel and Christiaan Hulsebos)
No one loves me like you (Witten by Rob le Cardinale)
Shine (Witten by Bas van den Heuvel and Ger van de Westelaken)
Several of the songwriters are well known names. Bruce R.F. Smith was also one of the songwriters behind Glennis Grace's entry My Impossible Dream from 2005. Last year's Dutch entry Your Heart Belongs To Me sung by Hind was co-written by Bas van der Heuvel and this year he was back with the song called Shine. Ferdi Bolland is from the internationally well known songwriter duo Bolland and Bolland who wrote songs like In The Army Now for Status Quo and Falco's Rock Me Amadeus.
The jury gave an immidiate opinion right after each of the songs:
1. Our Night: The jury finds it catchy, but points out that it is not enough to select a song that fits The Toppers. It has to be one which can do well in the Eurovision Song Contest and they are a bit worried that this song might not be strong enough to reach the final.
2. Angels of the light: This jury thinks this song has more of an international apperance and they like the energy The Toppers puts into this song.
3. Everybody can be a star: The jury doesn't notice (or at least doesn't comment on) the fact that this sounds like a copy of I Wanna that won the Eurovision Song Contest back in 2002. They admit that this is a song that gets into your head in 20 seconds, but think that it sounds a bit out-dated. 
4. Three is the magic number: The jury doesn't quite agree on this one. It is being mentioned as a very strong song, but also told that it sounds like a comeback song from a Dutch girl band!
5. No one loves me like you: The jury say that this song, where The Toppers are dressed like Village People, isn't bad, but they are unsure if it is good enough for the Eurovision Song Contest. Their Estern expert also points out that this probably won't do well in Eastern Europe where the taste simply is very different from this one.
6. Shine: They jury likes the dresses from the backing singers, who are put me in focus on this song and at points even appears to be members of The Toppers. They adds that they like the song as it has a familiar feeling to it without being stolen.         
After the first two songs had been performed a group of three musical stars sang a medley of classic Eurovision Song Contest entries. This medley included:
Eres Tu (Spain 1973), Power to all our friends (United Kingdom 1973), Save your kisses for me (United Kingdom 1976), What's another year (Ireland 1980), Diggi loo Diggi ley (Sweden 1984) and Hallelujah (Israel 1979).
After yet another two songs the musical trio was back with another medley. This time it contained only Dutch entries:
Shangri-la (1988), Ding a dong (1975), De Mallemolen (1977), Amsterdam (1980) and De Troubedour (1969). For De Mallemolen they were joined on stage by Heddy Lester who also sang it at the Eurovision Song Contest in 1977. Maggie McNeal who represented the Netherlands in 1980 also joined them on stage for the performance of Amsterdam. 
The 5 jury members all gave their 12 points to song number 2 Angels of the light, but the TV viewers who decided 70% picked song number 6 Shine with overwhelmingly 48% and therefore it is clear that it will be Shine The Toppers will be singing at ther 2009 Eurovision Song Contest in Moscow.
The Toppers announced that that they have already been invited to appear in Tv programs in the United Kingdom, Moldova and Greece, but that we can expect a big promotion tour across Europe. The Netherlands has been placed in the second semi-final at the 2009 Eurovision Song Contest where The Toppers will try to shine so much that they can bring the country back to the final, a place the Netherlands hasn't been at since 2004!
Below you can hear The Toppers perform Shine at the Dutch final.