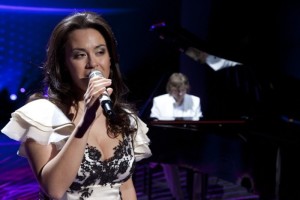 Evelina has an act that is, in many respects, completel different from all of the other acts to rehearse today. Her act was free of gimmickery, stash and glitter, with only a grand piano accompanying her.
Evelina takes to the stage wearing a classically elegant floor length white gown, with ruffles down the back of it. Slightly reminiscent of a wedding dress, the outfit is, like the song a tad outdated and in desperate need of an injection of something or other to liven it up.
A single spotlight shining down on Evelina with a sleek black grand piano placed discreetly by her side provides the song with an elegant setting, a simple yet effective opening to this emotional number. A primarily black backdrop with a stardrop effect in alternate blue and white colours is also extremely effective. Additional white spotlights projected upwards from the stage floor behind Evelina gradually turn blue, adding to the beautifully atmospheric setting for this quiet number.
Evelina has no difficulties in convincing the viewer that she can sing. Her challenges lie in trying to convey emotion in a song that is so clearly over the top, that it borders on the ridiculous. The number would by no means look out of place in a Disney production, sounding overly pompous and hopelessly bombastic. Vocally convincing, the song suffers under a lack of direction, and not even Evelina performing parts of her song in sign language help to lift it from the doldrums.
In my view
Based purely on her vocal merits, Lithuania would have no problem in qualifying whatsoever, but their chances are at present looking pretty slim with C'est Ma Vie running the risk of getting lost in the second half of the first semi final. 

The opinion expressed in "In my view" are those of the author and are not necessarily the one of EuroVisionary.com.