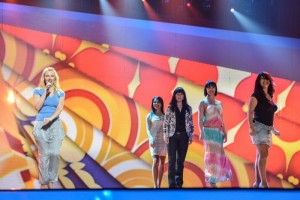 Next on stage was Latvia's Anmary who sang her Beautiful Song for the first time in Baku. The Baltic country has not reached the final since 2008. Will Anmary make it this year with her quirky and memorable song? After her magnificent rehearsal, anything is possible.
Latvia was the fourth country to rehearse today. Forget the theatrical performance we saw in the national final. That funny choreography has disappeared and has become something much more serious and why not say it, a little bit boring. But let's hope for some good shots from the rail and spider cameras that surely will improve the staging.
Anmary wore a blue t-shirt and grey trousers. She had four female backing singers with her on stage who were also dressed in casual clothes. The choreography was simple and it was well performed but it has nothing to highlight. They are just four girls dancing around the stage. They dance around the lead singer and she follows their dance routine from time to time interacting with them.
Her vocals were quite good and she seemed very confident on stage.
The backing screens show a nice mix of bright colors with a kaleidoscope effect.
The rehearsal was admittedly very good and the big notes at the end of the performance were impressive. Will we see this qualifying?
Below you can watch, in exclusive, the video of this rehearsal in 3D. So put on your 3D glasses and enjoy the show!