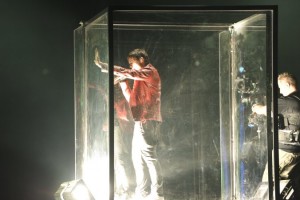 This rehearsal day kicked off with the Swedish representative Eric Saade. After some problems during the first rehearsal everyone was curious whether they could improve their performance. And they did.
The choreography did not change between the first rehearsal and today. Eric has three dancers and two male backing vocalists on stage. He wears his brown leather jacket which he already wore at Melodifestivalen. The dancing is very spectacular and they are all very synchronal. Vocally Eric was good, but not perfect. It was difficult to find out whether he was just saving his voice or whether he was just out of breath at some parts.
In contrast to the first rehearsal they used the effect of breaking the glass of one of the glass cages today. This effect was practiced in a special rehearsal yesterday.
As the song is catchy and the performance is very spectacular, it is likely that Sweden will qualify for the final again after one year of absence.