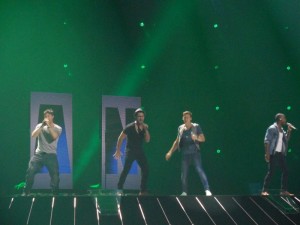 Blue are certainly in the running to win the Eurovision crown after again giving a great performance of I Can at their 2nd rehearsal.  The guys stage show and vocals were excellent today.
Duncan, Simon, Lee & Anthony were dressed casually today and not in the their special suits for the final.
They are joined by 2 male backing vocalists.  Behind the guys are 4 separate screens featuring videos of the individual members of the band.  The images start with the boys naked from from their top of the shoulders.  Then we have a burst of rain and then the boys are seen moving and kicking.  The lighting is is bright with stars effect.
Blue move around the stage and their years of experience can be seen with this excellent performance vocally and visually.
Blue might just do it if they can produce it all again at the final.