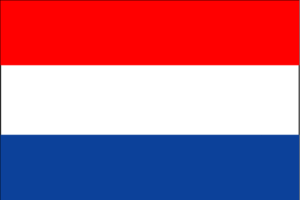 Or maybe I should ask "what keeps going wrong for the Netherlands?" since they have failed to reach the final in the past six years. We can't accuse them of not trying different things as they do try various genres. They just don't seem to be able to get it right no matter what they do.
The Toppers from last year and Sieneke from this year had more than their country in common. Ok, Shine and Sha-la-lie can also be compared style wise. Both have a bit of that german-ish schlager sound, or Palingsound as they call it in the Netherlands, which people either love or hate, but what I am getting at is that both songs were seen by the rest of Europe as a joke whereas the Netherlands were serious about them. Entering a song you yourself think is a serious attempt to do well at the Eurovision Song Contest and then being laughed at by the rest of Europe isn't the best sign. It indicates that something is wrong and that is indeed what the Netherlands has to realise themselves. When you fail to reach the final six years in a row then you have a problem, which you need to analyse seriously in order to solve it.
 
Their neighbour country, Belgium, was in the same situation until this year where most of Europe fell in love with Tom Dice and his guitar. It was a very simple song without too much disturbing instruments in the background. Interesting enough that was what the Netherlands sent last time they were in the final. Re-union only finished 20th so back then it didn't work too well for them. Since that the Netherlands has sent Glennis Grace, Treble, Edsilia Rombley, Hind and The Toppers and Sieneke off to do the country proud at the Eurovision Song Contest. None of them managed to qualify for the final and where many fans will argue that a couple of the songs from 2005 to 2008 did have potential to qualify only very few will say the same about the last two.
 
Could there be something in the way they select their entries? In 2005 the Netherlands had a selection that consisted of four preliminary heats and a big final with 12 songs competing. In 2006 nine songs competed in a final where three bands sang three songs each. In 2007 Edsilia sang three songs in a show and picked the winning song herself. In 2008 Hind was selected internally and so was the song. In 2009 The Toppers had been picked internally and the song was then chosen in a national final with six songs. Sieneke won a national final with six artists each singing the same song and only a small audience in a TV studio being able to vote together with an "expert" jury. With such different selection methods it is clear that the Dutch broadcaster have been experimenting, but maybe a little too much.
 
People who have been following the Eurovision Song Contest and its national finals for many years will remember how the Netherlands had one of the biggest and most popular national selections just five years ago;  5 semi-finals in 2005 and 2004, 4 semi-finals in 2003 and before that a big national final every year with 8 – 10 songs. The winner was always picked in a combination of jury and televoting. No matter if they had semi-finals or went straight to the final the system was familiar to the population who was offered a fair chance of picking a song they liked. The variety in the songs made sure the viewers didn't lose attention and everyone would be able to find something of their taste. Of course we will never know if the winning songs that came out of this would have been able to qualify for the Eurovision Song Contest final with today's system with the semi-finals, but it is worth noticing that the Dutch population haven't had a fair chance of picking a good song and performer since 2005. Three bands singing three songs each in 2006 and Toppers singing six songs in 2009 doesn't quite give the variety a proper national final need in order to be successful. Edsilia singing three songs and picking the winning song herself and the TV viewers not being able to vote for six rather similar versions of Sha-la-lie just made the population more confused.
Together with a confused population stand a lot of professional and experienced artists who are not eager to take part in the shows that comes across as low budget. It appears that the broadcaster doesn't want to pay too much for their participation in terms of promotion and stage acts. The artists generally don't want to pay for these things themselves. The Toppers is an exception to this as they wanted so much to take part that they financed most of it themselves. They did so by selling tickets to the Dutch party in Moscow together with sponsor deals. As they are a big name in the Netherlands that gets a lot of media attention they probably didn't have many problems finding sponsors.
    
If you want the TV viewers and the experienced artists to care you need to give them a variety of songs, different artists and of course the chance to vote. You also need to stick to a familiar format. Too many changes and a new system every year is too much for people who will naturally think that the broadcaster doesn't care so why should they.
 
It has to be mentioned that last year things were a bit confusing in the Netherlands as the national selection was held by one organiser, TROS, and the Eurovision Song Contest broadcasted by another one, NOS. From this year TROS has taken over the broadcasting part as well leaving it one channel for all of it. As TROS however is quite keen on this Palingsound (Schlager) it is to be expected that we haven't seen that for the last time representing the Netherlands at the Eurovision Song Contest despite the past two year's poor result. With many German and Austrian singers in this category actually being best sellers around Europe who knows if one day it will top at the Eurovision Song Contest although I personally doubt it as it has a tendency to mainly attract female viewers past 50.
It is fine with me if the Netherlands wants to stick to schlager songs as la Shine and Sha-la-lie, but let it be up to the population first to decide that. Let them chose between this, a powerful ballad, a rock song, a pop song and perhaps even an opera song. The more you give them to choose between the more entertained they will feel and the more they will care. Maybe this will bring back the Dutch spirit and perhaps even make them qualify for the 2011 Eurovision Song Contest final. I am ready to wave my red, white and blue flag should they do so.