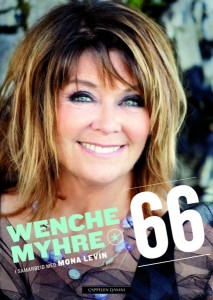 Despite never representing her native Norway at Eurovision, Wenche Myhre remains one of the most
popular artists in the country. With dedicated fans who have faithfully followed her career since she first came to be known in the early sixties, the release of her biography entitled 66 will no doubt be found under many a Christmas tree this year.
With such a prominent position in the Norwegian entertainment industry, not to mention megastardom in Germany where she is affectionately known as Die Wencke, aspects and details of Wenche Myhre's life have provided plenty of tabloid fodder over the years. Myhre is of course known to many as the 1968 German entrant at the Eurovision Song Contest with Ein Hoch Der Liebe. Although she never got to represent her native Norway, it's not through lack of trying, as she has participated in the national selections an impressive 6 times, with songs such as La Meg Være Ung going on to become evergreens. Despite a lack of success in the national selections in recent years with both Du Skal Få Din Dag i Morgen (1992) and Alt Har en Mening Nå (2009), she still enjoys star status. But with star status come the familiar trappings – a seemingly insatiable appetite of the press and public for juicy tidbits from her private life together with living under constant scrutiny have made Myhre guard her private life extremely closely.
A deeply personal and tough divorce as well as her battle against breast cancer are just some of her private tragedies to have figured in the national press over the years. In the new biography 66, which is a rather apt title, given that Myhre turns 66 next February, the artist has decided to share with her fans stories and experiences both from her career and private life, such as how her present life took shape, playing pretend piano on empty shoeboxes as a five year old or details from when she went on to experience massive success both in the worlds of music, film and television.
With the help of acknowledged critic and journalist Mona Levin, Myhre lifts the lid on her time in the entertainment industry, as well as sharing stories from her legendary career and dramatic priavte life. Although no exact date for release has been confirmed yet, publisher Cappelen Damm state that the book is due for release at the end of October, making it perfect timing for the Christmas rush and practically guaranteeing the book to be a major success.
Information about the book and its release (Norwegian only) can be found on the publisher's website.