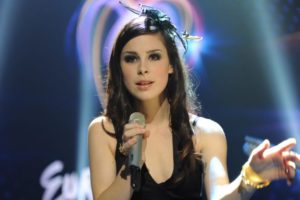 This was the moment most of the German Eurovision fans were waiting for. At a few minutes to 16:00 Lena finally entered the stage for her first rehearsal. She received a warm applause from the huge amount of interested fans and press.
The choreography of Taken by a stranger was not changed after winning the final of Unser Song für Deutschland. Lena is accompanied by five women on stage all dressed like aliens in silver overalls. Three of them are just dancing while the other two do backing vocalists. Lena herself wears a black jumpsuit with a blue-turqouise belt and blue high heels. In her hair she has a weird slide.
We all know that Lena is vocally not the best, but her voice is fitting well to this song and it is her charisma which still effects. The backdrop is coloured blue and white which also suits to the spooky atmosphere the song creates.
As usual, she was in a good mood, even making jokes during the sound
check. Just before the second camera rehearsal started she wanted to
know the current result of the football match between Eintracht Frankfurt and
1. FC Cologne as she is a fan of Cologne.
All in all we can say that the first rehearsal went very well and Lena seemed to be satisfied as well as the fans in the arena. Can she repeat her success from last year? Honestly said, it might be difficult. Taken by a stranger is a completely different song, so it is possible that people either love or hate it. At least a place under the top 10 seems to be likely.