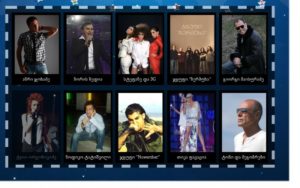 Although they have only participated twice at the Eurovision Song Contest reaching the final on both occasions and finishing 11th and 12th makes Georgia quite a successful country. Tonight they are going to decide who will be going to Moscow in order to continue this success.
When Diana Gurtskaya in May finished 11th at the Eurovision Song Contest with the song Peace Will Come she had no idea that just two months later her country would be in actual war against Russia due to conflicts in the two regions South Ossettia and Azkhabia. When Russian soldiers were fighting against Georgia on Georgian territorial the country announced that they would withdraw from the 2009 Eurovision Song Contest as they feared for their safety in Moscow.
When the war ended EBU got involved and via negotiations tried to convince Georgia to reconsider. These succeed and Georgia decided to take part after all. That they in the meantime also won the Junior Eurovision Song Contest might also have been a part of this decision.
Tonight ten songs will compete in the national final for the honour of representing the country in Moscow. Whoever wins will have quite some expectations to live up to as Georgia's previous two entries both have qualified for the Eurovision Song Contest final. Sopho's Visionary Dream finished 12th in 2007 and as previously mentioned this was beaten by Diana Gurtskaya's 12th place in Belgrade.
The ten songs competing tonight from 19:00 CET is:
Bachi Kitiashvili & Bermukha – Khvalindeli Dghe
November – Over
Giorgi Maisuradze – Peace In The World
Tika Phatsatsia – Miracle
Tony O'Malley, Mari Pavliashvili, Marika Asatiani, Nana Chikava, Andro Melashvili, Guga Aphtsiauri – Hear My Plea
Nodiko Tatishvili – No Sun When You Are Near
Boris Bedia – Dagvipharavs Ghmerti
Stephane & 3G – We Don't Wanna Put In
Anri Jokhadze – I
Keti Orjonikidze – Tomorrow
The winner will be chosen via 30% televoting and 70% jury voting. A webcast of the show will be available here.