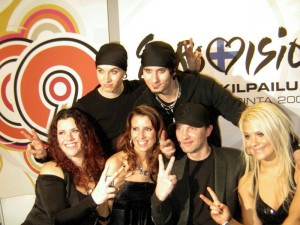 Finland will compete with a dance song. What has this group to say after victory in the Finnish Eurovision Song Contest selections? Will the performance have some changes in Moscow? And what might happen in press conference?
"This is very great to represent Finland, when dance music has never been the music of the whole nation before here", starts Waldo. He continues by saying that pyroartists will go to Moscow too, but they will not do big changes for the Eurovision Song Contest. "We want to have fun with our own ideas, and I hope that the fun will be transfered to homes via TV". He does not know yet whether they will have a promotional tour in Europe.
Waldo's People also won the fan prize of Viisukuppila, which arranged the voting. Waldo admits that he has read discussions from the internet: "When the songs were published, I read comments, and I was frightened. I stopped reading them."
They have also been on the Finnish single charts, currently at 2nd position. "Hopefully we will be number one", hopes Waldo, and continues that the new album will be in the shops on Wednesday. "We did not start by making a song for the Eurovision Song Contest, but started to do an album. This song raised up as the strongest for the Eurovision Song Contest. We have done this as Finnish-Swedish co-operation. I can trust in Swedes, because they can do good melodies. We have a Swedish producer. And Annie (Annie Kratz Gutå, one of the lyricists) is also a Swedish backing vocalist, like Margareta Sandkvist.
Annie Kratz Gutå has participated in the Swedish Melodifestivalen 2001 as a soloist. "Melodifestivalen is a very big event in Sweden", tells Annie.
For Karoliina Kallio, the third time was the right time. "She told me that she has not even won money from the lottery, so the feelings came direct from the heart. She is a great person. I remember her from the Finnish Idols. I found her via our drummer, who knew her. And she has been our fan, so she didn't have to learn the songs", tells Waldo. Karoliina adds "From the old memory!" They are very grateful to their record label and YLE.
Waldo trust that they are liked in Eastern Europe. He mentions especially Romania, but he hopes also for votes from Sweden.
They are not going to fawn on anyone, but they do their own thing. "Hopefully, the Finnish people can be proud of us, though there will be tough competition. There are about 40 countries and a place in the final be success", says Waldo.
Waldo also says that they will have something to take attention. "I can imitate a dog", tells Waldo, referring that he has always had dogs. Karoliina and Waldo say also that they were guests in the Habbo Hotel, and it was very touching for them.