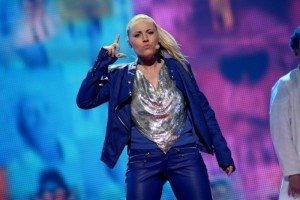 Valentina Monetta gave a lively performance today at the second rehearsal for San Marino.  She is sending the message to say she means business about making it to the final.
Valentina was wearing a blue jacket and blue pants and silver and glittery top.  She was joined by 5 dancers on stage including a cheerleader, a doctor and a pilot.
Valentina has a laptop at the centre of the stage and taps away at the keys through the performance.
The stage lighting is quite effective with social network photo images rotating in bright colours and the Uh and Oh flashing up too.
Ralph Siegel was directing routines during the interval between the four run throughs of the song.
This performance is happy and fun and we will see if the social networking helps Valentina to the final.