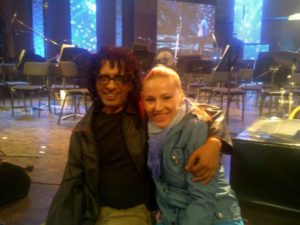 Valentina Monetta, who will be representing San Marino at this year's Eurovision Song Contest, has just arrived home after a two days promotion tour in Israel. Here she met up with former winner Izhar Cohen, but also Izabo who she will compete against in Baku.
It has been some busy days lately for Valentina Monetta. After having performed at met with press and fans at the two preview parties in Amsterdam and London she went two Israel on a two days tight schedule that included Tel Aviv and Jerusalem. 
In Israel she made a TV appearence at a Late Night programme, did radio interviews and and of course met with fans. She performed at the Israli Fan Club party, who gave her a life long free membership of the club, and also attended a Eurovision Tribute Concert at the Jerusalem Theatre broadcasted by the Isaeli broadcaster IBA. At this occasion she was able to meet up with former Israeli participants including the 1978 Eurovision Song Contest winner, Izhar Cohen. He won the contest with A-Ba-Ni-Bi with plenty of margin to Belgium who finished 2nd that year. 
This year's Israeli participant Izabo she met at a joint press conference in Tel Aviv. Both Valentina Monetta and Izabo will be participating in the first semi-final of the Eurovision Song Contest in Baku – and by coincidence they have been drawn right after each other for the running order. Israel will start as number 10 and San Marino as 11th. 
After returning home from Israel Valentina will now be rehearsing in Munich, Germany until she next weekend will arrive to Baku, Azerbaijan in order to try to bring San Marino into that final of the Eurovision Song Contest they have never been in.  Below you can see Valntina's performance at Eurovision In Concert on the 21st of April. The video is in 3D, but this can easily be turned off in the viewer if you do not have a pair of suitable glasses.