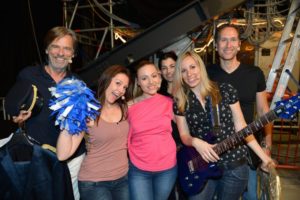 The adorable Sammarinese singer has routinely been treated as a bit of a joke contestant but in today's rehearsal she has demonstrated her vocal ability. As this is The Social Network Song, of course there had to be a laptop on stage.
The second rehearsal of today was for San Marino delegation and The Social Network Song (oh oh-uh-oh oh).
Valentina was joined by three female and two male backing singers and dancers all dressed in casual clothes. One of them had a guitar, another one had a camera, other a mobile phone and other of them had cheerleader's pom poms. But, why they have pom poms for a song about a social network? Well, for today's rehearsal she wore jeans and a pink t-shirt but, considering the outfit check, we know that for the moment of truth she will be dressed as a cheerleader!
On stage could not miss Valentina's laptop. It looks like the Macbook (with the Apple logo) we saw in the video clip but this is sparkly. In the second half of the song she spends some time typing on his laptop presumably connecting to the social network that she loves so much.
The screen backdrop is very bright with pictures of people faces and lots of 'uh oh ohs' popping up in colorful speech bubbles.
The whole performance was a little bit cheesy and childish with a simple but clean choreography and a very compelling interpretation. As for her singing skills, they were quite good.
Maybe not a sparkling performance but it will be fresh, funny and very ironic. Do you like it?