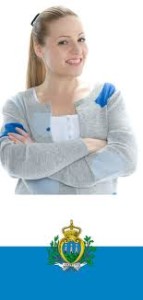 Sammarinese broadcaster SMRTV continued the tradition of internal decisions this year and it has been announced that Valentina Monetta will be representing this country at the 2012 Eurovision Song Contest in Baku. The song will be announced in a special programme on March 16th.
A new face at the Eurovision Song Contest, San Marino will be making their third participation at the contest where they have not managed to take part in the final yet. This year, Sammarinese broadcaster SMR TV continued its own tradition of selecting the representative name, processing their own elimination system amongst the talented singers since last autumn. Therefore Valentina Monetta got the lucky card of participating at the contest in Baku where she will be flying the San Marino flag.
The song presentation will be held tomorrow, on 16th March with the start at 21.40 CET. The show will be broadcast live by the SMR TV via its web and satellite, at the same time, the show will also be able to seen on official website of the contest, eurovision.tv
Valentina is not a newbie in Sammarinese music industry although she doesn't have popularity outside the border of this country. She has been working with one of the top brand Sony Music which has a world-wide fame. Her first work Sharp released in 2002 as a single, taking part in the Sharm Project. The second single VAI which was featured with the singer Papa Winnie, was released on 2006 as in the discography project of 2black.
In Valentina's music career, there are numerous collaborations as she was a backing vocal of some artists such as Silvie Vartan, DJ Master Frees, Bombo's, El Ruben & R. Fame, Elena Cattaneo and Dance-House. In meantime Valentina also performed at the Bob Marley Tribute concert with her first group Parafunky which was found in early 2000's.
Valentina's style is usually RnB, funky and acid jazz genres, possibly providing a clue as to what can beexpected of her in Baku. Last year, Senit represented this country at the song contest with the song Stand By, unfortunately not making it to the finals at the end. Therefore Valentina will try to break the duck in the first semi-final of Eurovision Song Contest on 22nd of May.
Below you can watch one of her newest act Una Giornata Belissima which is speculated as a possible Sammarinese entry in the media: