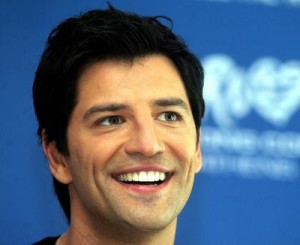 Tomorrow Sakis Rouvas will be singing three songs in the Greek national final. In a combination of jury and televoting the song that will represent Greece in Moscow will be chosen. Or will it? A short while ago Sakis collapsed and was taken to the hospital. At the moment no one knows if the Greek selection will go on as planned or re-scheduled. 
There is very little information available at the moment, but it has been announced that Sakis Rouvas collapsed under rehearsals today and was taken to the hospital immediately. As no one knows how serious his sitation is, it is unsure if the Greek selection scheduled for tomorrow evening will go as planned or if it will be needed to let him recover before a new show can take place or in worst case if Sakis will have to withdraw and ERT find another participant.
In tomorrow's final Sakis was suppose to sing the three songs Out Of Control, Right On Time and This Is Our Night.  
EuroVisionary will keep you updated on the situation and we would like to express our deepest wishes for Sakis Rouvas.
UPD: Sakis has been released from the hospital and a flu affecting him for the past month has been mentioned as being the reason for his collapse earlier today. He will now recieve different medicin and it is believed that the Greek final can go on as scheduled. As it will be playback the flu will not influence his singing.