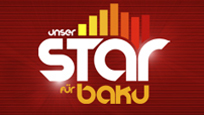 Tonight we saw the third show of the German national selection Unser Star für Baku. After the first two shows ten candidates were left who competed for one of eight spots in the upcoming show. At the end the TV viewers decided that Rachel Scharnberg and Leonie Burgmer had to leave the show.
The show started again at 20.15 CET and was broadcasted via the private TV channel ProSieben. At the beginning all ten participants entered the stage to introduce themselves again. Afterwards the lines were opened to determine the running order.
The songs:
1) Rachel Scharnberg – Like a star
Rachel performs Like a star by Corinne Bailey Rae. Last week Rachel convinced the viewers with her powerful voice. This song is a very quiet ballad and Rachel gives a very good and emotional performance. The jury agrees that this was a good performance without any mistakes. Stefan especially likes the sound of Rachel's voice.
2) Leonie Burgmer – I love your smile
Leonie has an extraordinary voice which reminds a bit of Lena. In some parts of the song I love your smile by Shanice she speaks or screams more than she sings and during the parts she sings, she does not hit every note, but all in all she is very charming. After her performance Leonie does not look very satisfied. Alina thinks that it was brave to choose a song like this. Stefan says that Leonie is a very special character because she has a unique style to perform. Thomas finds her very congenial and hopes that her charm can be transported via the tv to the audience.
3) Sebastian Dey – Amnesie
For the first time we have the possibility to hear an own composition. Sebastian's song is in German and called Amnesie (Amnesia). At the beginning of the song Sebastian is only accompanied by his guitar. During the first chorus the band joins him. The song starts slow and builds up to a midtempo pop song. Sebastian's voice is flawless and fits very well to this kind of song. He receives a big applause by the audience. Thomas is very enthusiastic about Sebastian's performance. Stefan calls the composition professional and thinks that Sebastian is very talented. He also praises the way Sebastian plays the guitar. In Alina's opinion it was just the right decision that Sebastian chose his own song to perform.
4) Katja Petri – Lego House
Next on stage is Katja Petri. Just like last week she has her guitar with her and delivers a perfect vocal performance. Her voice sounds warm and clear. Alina says that it is obvious that Katja already is an experienced singer. Stefan thinks that Katja knows which songs suit her, but he wants to see something different in one of the next shows. Thomas agrees and admires her professionalism.
5) Umut Anil – Weitergehen
Tonight's number five is Umut Anil who performs the ballad Weitergehen by Tim Bendzko. Umut gives a very emotional performance. He sings well, but does not hit every note. Nevertheless big applause for him. Thomas says that Umut chose a big song which might have been too big for him. Alina criticizes that the performance was not constant enough. Stefan agrees and regrets that Umut sometimes is not self-confident enough.
6) Céline Huber – How come you don't call me
Céline who studies vocals at a music college performs How come you don't call me by Alicia Keys. Once again her vocals are flawless and confident, although she does not seem to have the power in her voice she would need for this kind of song. Alina was convinced by Céline's performance and is looking forward to see her again. Stefan praises the technique of her voice, but prefered Céline's performance of the first show. Thomas liked the performance because it had a personal touch.
7) Ornella de Santis – I want you back
Ornella sings I want you back by the Jackson Five. After singing a ballad the last time she now chose an uptempo song. Her voice is very unique, very bright and the vocal performance is perfect. Stefan reminded the voice of the young Michael Jackson. Alina is touched by the performance and feels like dancing. Thomas enjoyed it as well.
8) Shelly Phillips – Fuck you
Shelly is back singing Fuck you by Cee Lo Green. She grooves very well with the band and is very confident. Alina and Thomas both loved the performance. Stefan felt himself entertained and said that Shelly put a personal note to the song which might not be loved by everyone.
9) Yana Gercke – Roxanne
Last week Yana earned a lot of praise for her performance of Price tag. Tonight she decided to sing Roxanne by The Police. Her vocal performance is very good, but she sometimes tries too hard to sound like a rockstar. Nevertheless Yana seems to be the audience's favourite so far. Stefan and Alina found it brave to choose a song like this. Thomas is very enthusiastic about the power in Yana's voice.
10) Roman Lob – Easy
Last performer of tonight is Roman Lob who was already extremely popular in the first show. This time he performs Easy by The Commodores and again his performance is flawless with a very powerful and emotional voice. All jury members agree that Roman delivered a very good and interesting performance.
The results:
Just like the two weeks before the live voting was very close. During the show Ornella, Céline, Umut, Katja, Sebastian, Leonie and Rachel each were on the last two positions for a while. Finally these two artists have to leave the show:
Rachel Scharnberg
Leonie Burgmer
We will see the next show on Thursday, February 2nd when two more artists will be eliminated.