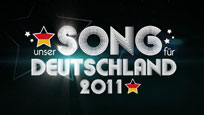 Tonight the first semi final of Unser Song für Deutschland was held. Germany will again be represented by last year's winner Lena Meyer-Landrut who performed six songs. Three of them Maybe, Taken by a stranger and What happened to me proceeded to the final on February 18th.
The show started on 20:15 CET and was hosted by Sabine Heinrich and Matthias Opdenhövel who already presented last year's Unser Star für Oslo. They entered the stage together with Stefan Raab who tells that they received a lot of possible entries and that it was not easy to choose the twelve songs for the show. He said that not only the song was important, but the symbiosis of Lena and the song.
After this short introduction a summary of Lena's performances at Unser Star für Oslo was shown as well as her performance and her victory at last year's Eurovision Song Contest in Oslo.
Finally Lena came on stage and she received a warm applause. She was asked whether Oslo was still present to her. Last year at the same time she did not even have her first appearance and now she is the titleholder. Lena said that she was very happy about that and she was looking forward to this evening and to perform on stage together with the live band The Heavytones.
Now the expert jury was introduced. They should comment on every song without having the right to vote in the end. They consisted of Stefan Raab, Stefanie Kloß and der Graf. Stefanie Kloß is the lead singer of the successful German band Silbermond and already was a part of the expert jury in 2010. Der Graf is the frontman of the band Unheilig whose song Geboren um zu leben was one of the biggest hits in Germany last year.
The songs:
1. Good News
We started with Good News. In the introduction film Lena tells us that this is one of her favourite songs. Lena looks gorgeous wearing an elegant light brown dress and pinned up hair. The song begins slowly and becomes mid-tempo with the first chorus. It reminds a little bit of swing and suits very well to Lena's voice which seems to be a bit shaky.
Jury:
In their opinion it is a good song which suits to Lena very well. It is no mainstream pop and Stefanie Kloß admits that sometimes one has to listen to a song several times to like it.
2. Maybe
Maybe is also a mid tempo song and more mainstream than Good news. The verses remind a little bit of Gwen Stefani's If I was a rich girl. The chorus is catchy and Lena seems to have fun on stage, dancing a bit and wearing a short black dress and this time open hair.
Jury:
According to the jury the song has a very strong chorus. Stefanie thinks that she had to get used to the verses while Stefan points out that he especially likes the verses. The general opinion is that this is a modern pop song.
3. I like you
This song is a ballad in unplugged style. Lena performs sitting on a stool and you can just shut your eyes and listen. Nice song, but not very memorable.
Jury:
It is a very nice ballad which reminds a bit of Norah Jones and Katie Melua, but it might be a bit too quiet for a contest (applause from the audience). In Stefan's opinion this song shows how Lena's voice has developed during the last year.
4. That again
That again is written by Stefan Raab. It is again a mid-tempo song which contains jazz elements. Lena seems to like this style and looks good on stage. One definitely has to like jazz and big bands to like this song.
Jury:
Stefan does not want to judge because he wrote this song himself. Stefanie had a big band feeling and as Lena seems to like this song she thinks this could reach the final. Der Graf claims that one could recognize Lena's influence to this song.
5. Taken by a stranger
The intro of the song reminds me a bit of Satellite. It is the first song which can be described as a bit more up tempo. Lena has four female dancers behind her who show a nice choreography. The song has a mysterious sound with a constant beat and receives the biggest applause so far. This is definitely something different.
Jury:
An experimental and different song which shows the variety of songs that Lena is able to perform.
6.What happened to me?

This is the last entry for tonight and was written by Lena herself together with Stefan Raab. It is typical Lena style – her black dress combined with her own dancing routine and her charming smile. Overall this song is more up-tempo and has a catchy tune.
Jury:
A special song because Lena has written it and she really feels this song.
After a short reprise of the six entries the lines were opened and the public could vote via televoting or sms. There was no interval act. Instead the TV channel Pro Sieben showed another commercial break.
The results:
Sabine Heinrich and Matthias Opdenhövel announced that Maybe, Taken by a stranger and What happened to me received most of the votes and will be performed by Lena in the final of Unser Song für Deutschland on February 18th.
The second semi final will take place next Monday, February 7th. Again three songs will be chosen. On the day after, Lena will release her new album Good news which will contain all 12 songs she performed in the two semi finals.