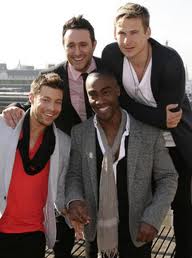 The much-anticipated TV premiere of the United Kingdom entry for Düsseldorf took place tonight on BBC One.  For the first in the UK's 54 year Eurovision history, the British public have had no say in the selection.  How would it sound?
The UK are again one of the final countries to reveal their song for the 2011 Eurovision Song Contest.  Controversy has raged over the BBC's decision to take the choice of song and performer out of the hands of the British voting public.
Blue (Antony Costa, Duncan James, Lee Ryan and Simon Webbe) were seen as a surprise choice by many, especially when the rumours were Charlotte Church or Katherine Jenkins.  However, we'd be prepared to give Blue the benefit of the doubt, just by looking at their track record.  They were formed in 2001 and had eleven top 10 hits in the UK singles charts (including three Number Ones) by the time they first disbanded in 2005.  They've recorded with Elton John and Stevie Wonder, and arguably went their separate ways at the top of their career.  As soloists, the members of Blue have also had varying degrees of success.
Additionally, Duncan James has acted in London's West End and presented various youth-orientated TV shows on British television.  He also read out the UK votes at the 2009 Eurovision Song Contest.  Antony Costa took part in Eurovision: Making Your Mind Up (the UK's selection programme in 2006) with It's a beautiful thing, eventually finishing second to Daz Sampson.
While the song had been leaked onto Youtube a day earlier, Friday night's The Graham Norton Show would be the first chance we got to see the song as it would be performed at the Esprit Arena in May.
It's an ensemble piece, in that they all sings parts of it.  It's anthemic in quality, with a very contemporary sound that may do well.  For once, it looks like the BBC are taking the competition seriously.  It could well be a floor-filler too. 
For viewers in the United Kingdom, the Graham Norton Show will be available on the BBC's iPlayer facality for a week.
Links