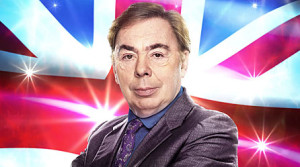 The title of the UK's Eurovision entry has been revealed. The song, written by Andrew Lloyd-Webber and award-winning US lyricist Diane Warren, is called My Time, and was written by the duo in just two hours!
In an interview with the Daily Mail, Lloyd-Webber says that although My Time was written in a short space of time, this may not be a bad thing: "It would be good to say it took us a whole week of much agony and rewriting, but it didn't", adding: "Once we got the idea we wrote it extremely quickly. For something like this you want something that's going to happen instantly because the audience has to pick it up very quickly."
Giving some hints for the expected style of performance, Lloyd-Webber says that although Eurovision performances can be full of gimmicks and elaborate choreography, he may advise a simpler approach: "I've come to the decision, rightly or wrongly, that what most countries will be doing, particularly in the stadium that's being used, is trying to fill it…The dramatic artist in me says that in a great big space, go the other way and just give them the song and the performer". He continued "What Turkey, Greece and the other countries expect from me is a great power ballad, so I've gone with a song that can go both ways. It can work as a Celine Dion song, but it can also have a dance beat."
My Time will be performed in the final of "Eurovision: Your Country Needs You" on Saturday 31st January, which comprises of a live show and a separate results show.  Whether we get to hear the three remaining contenders, Jade, Mark, and the Twins each sing My Time is yet to be confirmed.
Links
Daily Mail interview with Andrew Lloyd-Webber
Your Country Needs You (BBC site)