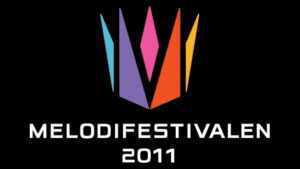 SVT confirmed that there will be a live broadcast on Monday the 8th of November where the five remaining songs will compete for 2 of the 32 places in the semi final of the swedish national selection Melodifestivalen 2011. In the swedish press there are also rumours about possible names of the performers, some of them are already said to be 100% confirmed.
Like last year there will be a web wild card (web joker) which means that any swedish citizen can submit their own produced songs to SVT (deadline for submitting a song is the 21st of september). The songs will be available on SVT's website and the five songs that collects most SMS-votes will go to a televised final where the two entries with most votes from the viewers will take a place in the semi final of Melodifestivalen.
SVT will invite and select 15 songs while 15 other songs will be picked by a jury and 2 songs will be picked through the web wild card. Rumours in the swedish newspaper Aftonbladet says that the swedish dance band ("dansband") Lasse Stefanz are 100% confirmed to take part and Danny Saucedo (from the group E.M.D. "Baby goodbye", 3rd in MF 2009) has also been given green light to take part and is said to be looking for the right song to enter with.
Other names that are rumoured to confirmed are Lili & Susie (MF 1989 & 2009), Sanna Nielsen (MF 2001, 2003, 2005, 2007 & 2008) and Shirley Clamp (MF 2003, 2004, 2005 & 2009).
Other names that the MF-competition producer Christer Björkman is said to hope to persuade are: Timo Räisänen, Ace of Base, Laleh, Sahara Hotnights, Maia Hirasawa, Elena Paparizou (3rd at ESC 2001 for Greece & winner of ESC 2005 for Greece), Lisa Nilsson (MF 89), Mauro Scocco (as a songwriter), Robyn (as a songwriter), Sofia Jannok and Annika Norlin.
Some other names are said to be planning sending, or have already sent, songs:  Sara Varga, Marie Picasso, Rebound, Marie Serneholt (MF 09), Magnus Carlsson (MF 00, 01, 02, 03, 05, 06 & 07), Le Kid, Timoteij (MF 10), Sarah Dawn Finer (MF 06 & 09), Elisabeth Andreassen (MF 81, 84, 90, 02, MGP 98, 03, ESC 82 for Sweden, Winner ESC 85 for Norway, ESC 94 Norway & ESC 96 Norway) and Linda Bengtzing (MF 05, 06 & 08).