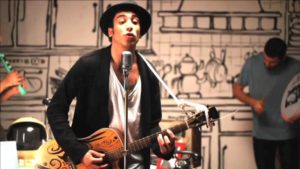 After another internal selection, TRT and Can Bonomo released the information to the public that they will be presenting the song for the 2012 Eurovision Song Contest. The show will be aired by the two channels of the broadcaster on Wednesday. EuroVisionary can confirm that the song will be in an uptempo stlye with ethnic melodies.
In our previous article, we announced that Can Bonomo has submitted three entries to the decisive committee in the Turkish national broadcaster TRT and the song presentation would be either on 17 February or 24 February. The commitee has now selected the song and the studio works have been completed. Due to Can's busy schedule, the presentation show will be held earlier than expected and it will be held on 22 February.
The show will start 18.30 CET (19.30 local time) and will include two parts:
In the first half of the presentation, Team Bonomo and general director of TRT, Mr. İbrahim Şahin will hold a press conference, they will announce their motivations and thoughts on the representative song and about the selection process. This conference will be aired live by the channel of TRT Müzik.
In the second half the song will presented to the public and also Can Bonomo will give to the fans a short concert, which probably will include a couple of his famous songs, Meczup and Bana Bir Saz Verin. The presentation of the song will be broadcast live by TRT1 and TRT Müzik. As the TRT1 channel will turn it's cameras to the presentation in the middle of news bulletin (Ana Haber Bülteni), the concert will continue on TRT Müzik. Therefore, fans who want to watch the entire show, they should be watching the show on TRT Müzik.
EuroVisionary can confirm that the Turkish representative song will be presented in an up-tempo style in the English language and the song will be have ethnic melodies. In the meantime the song that we will hear is not going to be the last version as Can will continue his studio work for a while and Can will be also preparing a good visual show for the Eurovision Song Contest stage in Baku.