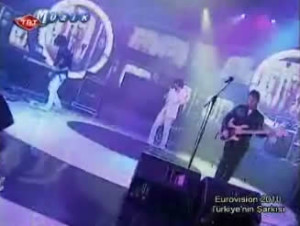 Even if you don't have a national final you can still present your song to the entire world in a nicely set up TV show. That was what Turkey did when they today showed which song will be their entry for the 2010 Eurovision Song Contest. We knew the band in advance and now we also know the song; We Could Be The Same.
In the beginning of January it was announced that it would be the band MaNga that would represent Turkey in Oslo. When EBU a couple of weeks ago had their draw for the two semi-finals we got to know that they would participate in the second semi-final and today the song was presented to the public.
Background:
The band had submitted three potential entries for the Turkish broadcaster TRT to choose among. We Could Be The Same was picked as the one that will try to secure Turkey yet another good result at the Eurovision Song Contest. Since the concept with semi-finals were introduced in 2004 Turkey has never failed to reach the final where they quite often end up scoring really well.
We Could Be The Same:
The 2010 Turkish entry titled We Could Be The Same is an extremely likeable rock song. It is well produced and has an international sound to it which could end up being quite a hit in many European countries no matter how it scores in Oslo in May. For the national presentation they used pyrotechnics and we will probably see this on stage at the Eurovision Song Contest.
The performance from tonight can be seen in the video from youtube below.
The show:
ManGa gave a mini concert performing several songs from their latest album Şehr-i Hüzün, all sung in English – except for We Could Be The Same, which we of course got to hear one more time. This was their oppertunity to show what else they have to offer. Unfortunatly the webstream gave some problems to the international fans who wanted to watch this.