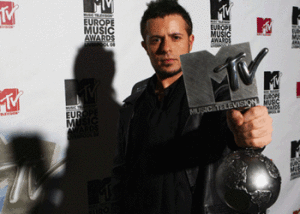 Turkish broadcaster, TRT, has been choosing a representative for Turkey with a public poll since 2007. Emre Aydın, the Turkish pop/rock singer who came second in this year's poll, ended speculation about his possible participation in the Eurovision Song Contest.
Emre Aydın had been rumoured to be participating in the Eurovision Song Contest this year, but came second behind MaNga. He became more popular after winning MTV European Music Awards in 2008, and after that, his name was placed into those speculating.
After those rumours, Emre Aydın stated that he would not be the best choice for the Eurovision Song Contest this year. "Whoever it is, that person always wants to represent his country in each arena, but I want to represent my country in a different way. I wouldn't be happy if I joined the Eurovision, so it is better that other singers to represent my country." he added.
According to the Turkish news agency, eurovisiondream, there were not many points between MaNga and Emre Aydın after the final poll results were announced by TRT. 
Links