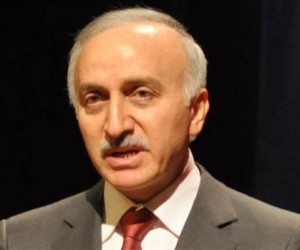 Turkish Eurovision fans were readily discussing who is going to represent Turkey in Malmö. Polls are already created in social media to find out which singer has more potential to win. Meanwhile, the Director General at TRT had a shocking message for the media: "We may consider withdrawal from the contest in 2013."
TRT Director General İbrahim Şahin came together with the journalists in an iftar meeting. After the dinner, he chatted with the members of press, and made important statements about TRT, and Turkey's future in the Eurovision Song Contest.
İbrahim Şahin said: "Eurovision is no longer a contest. It turned into a show. The 2012 edition was a special case, because it was held in Azerbaijan. Can Bonomo did very well, and won recognition in Baku. We are always criticised, no matter who we select to represent us. Last year, we discussed with our friends: 'If it wasn't held in Azerbaijan, what difference does it make if we don't participate this year?' Tarkan is a special friend for us. I talked to him, he said: 'I can compete if I'm going to win. Otherwise, it will damage my career. Other than this, I can do any contribution for Eurovision, with compositions and song lyrics.' There is clearly block voting between some countries. I knew Sweden was going to come first. It's not a contest, it is a show, if the winner is obviously known all along. We should put forward the idea of withdrawal as an alternative."
Turkey has been in the contest since 1975, and they were active except for the years 1976, 1977,1979, and 1994. Although the country profile is full of high placings in recent years, the earlier history of the country is not so bright. They finished in the bottom 5 so many times at the contest. Eurovision had always had a diplomatic aspect, which made block voting prominent. However, it is questionable whether TRT has seriously started to consider withdrawal after brilliant results such as 4th place in 2009, 2nd place in 2010, and a respectable 7th place in 2012.
Here's Turkey's 2003 entry, which is their only victory up to now. "Everyway That I Can"