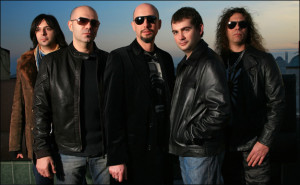 In a special show dedicated to the occasion Turkish broadcaster, TRT, presentend their entry for the 2011 Eurovision Song Contest. In Düsseldorf the band Yüksek Sadakat will sing the rock song called Live It Up.  
Last year maNga came second in the Eurovision Song Contest with the song We Could Be The Same and with the country having finished in top 10 the past four years in a row the pressure was on Yüksek Sadakat to come up with a song that can do the same.
The announcement of Yüksek Sadakat for the Eurovision Song Contest came back in early January and since that speculations about if the band was good enough and whether or not they should sing in English have floaded the net as well as Turkish media. With the presentation of the song today we can now draw the first conclusions as to if it looks to be another top placment this year or if they might just be left in the semi-final, something that has not yet happened to any of the Turkish entries.
The show:
Before we get to hear the song a press conference is being held. TRT first talk about why they went for Yüksek Sadakat before the band is answering questions from the press. It is also being mentioned that Tarkan first was asked, but he concluded that he feels he is too old for the Eurovision Song Contest.  
The song is called Live It Up and the band tells that is an uptempo song. They say that they have dared to be a bit brave this time.
Clips from previous Turkish entries are shown on TV. This includes newer entries such as Everyway That I Can, Superstar, Shake It Up Shekerim and We Could Be The Same, but also older songs such as Sufi.
And now Yüksek Sadakat enters the stage to sing Live It Up. It is a rock song in quite a European style. It is of the kind that you can't really have anything against it so it is hard to imagine this not qualifying for the final of the Eurovision Song Contest and probably accieve yet another good placement though the song does lack a good reconisable chorus.
A small concert takes place as the band continues to show what else they have to offer. It is a mix of rock songs in Turkish, before they then again ends with singing Live It Up. The band clearly enjoy themselves and love to perform. 
EuroVisionary has a journalist on the spot for today's song presentation and the following cocktail party. Later tonight or tomorrow you can read more about it.