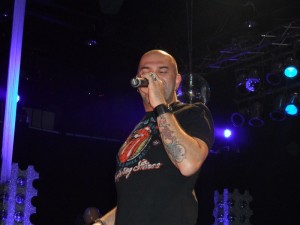 Turkey hosted a big party with Yüksek Sadakat in the Euroclub on Wednesday.  They perfomed several songs and were later joined by several other acts from this year's Eurovision Song Contest.
Yüksek Sadakat performed Live It Up and several other songs.  Live It Up was certainly the theme of the evening as Turkey hosted a wonderful party.
Also, performing on stage were Alexej Vorobjov from Russia performing Get You, Daria from Croatia, who was dressed in a short black dress, singing Celebrate.  Also, performing were Eldrine from Georgia, Ell & Nikki from Azerbaijan, Aurela Gace from Albania, Vlatko Ilievski from FYR Macedonia.  He was wearing a white mack coat.  Anna Rossinelli from Switzerland also took to the stage.
Later Nadine Beiler from Austria danced on stage to the remix version of The Secret Is Love.
The Twiins from Slovakia also took to the stage as well as Maja Keuc from Slovenia.