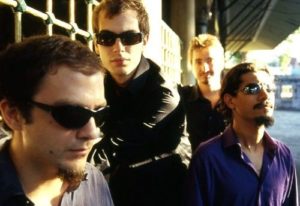 Friday 15th February, TRT presented their song for Eurovision 2008 for the first time. The song is 'Deli' (Crazy) and is currently in the Turkish language.
Mor ve Ötesi, the soft rock metal band, is participating to the Eurovision 2008 with a rock song in the Turkish language.  The band is most  popular among the younger generation in Turkey.  It is always a hot topic of discussion before the Eurovision selection whether the song should be in Turkish or English.  Some say that it should be in Turkish with Turkish melodies and instruments and that the aim should be to showcase Turkish culture even if we can't win.  Others claim it should be in English as music is universal and it is easier to win with an English song as the audience will understand the lyrics as well.
The most important subject of last nihts premier was of course the unveiling of the song.  The song is less Turkish sounding that many may have originally thought it would be.  It's a mid-tempo rock song with a catchy hook.  You can watch the video below.