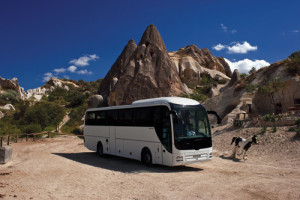 There is a few weeks to go till the Eurovision Song Contest which will be held in Germany. Today the sponsorship of transportation of participating members in Düsseldorf was officially signed with a Turkish company.
According to Turkish broadcaster TRT's mid-day news, the deal of the sponsorship was signed between EBU delegation and another Turkish company M.A.N. yesterday. The busses will be designed specially for each countries before production and all 43 busses have already been produced in Turkey.
In the near future, these busses will set out on the roads from Turkey to Germany for the contest with the last make up being made in Germany by Turkish technicians.
Today the general manager of TRT, İbrahim Şahin, held a press conference in the factory where all those 43 busses were produced. Mr. Şahin stated he is, "very proud and all the employees of the factory should be proud of themselves as they have done a magnificent job".
Turkish representatives, Yüksek Sadakat, also attended the conference as guests and Mr. Şahin also shared his opinions on group. He said that the corporation, TRT, decided not to make much pressure as in the past. He also added that this pressure on representative acts seemed to bring more failure than a success (in the meanwhile, Turkey settled for a winning trophy in the last 2-3 years) and waving Turkish flags proudly was more important after all.
The company M.A.N.'s Turkish Fortuna II series will be working for the comfort of all 43 participant countries and their delegations.