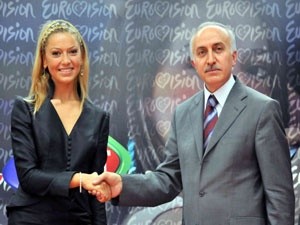 The Turkish participiant of 2009 Eurovision Song Contest, Hadise, has offically signed with TRT today. Before the offical ceremony Hadise and TRT's boss İbrahim Şahin already announced their plans for the Eurovision Song Contest which will be held in Moscow in 2009.
While the preparation of 54th Eurovision Song Contest goes faster by the participants, Turkish broadcaster TRT has officially made a press conference with Hadise.
The press conference has held at the centre plaza of TRT Corporation in Ankara. The boss of TRT İbrahim, Şahin and Turkish representative Hadise joined to the press conference. İbrahim Üzümcü began with the explanation on how Hadise has been chosen for the Eurovision Song Contest by TRT. As EuroVisionary wrote before, Hadise has been chosen by a fan poll is confirmed by İbrahim Üzümcü. Hadise's new and successful trend in European music markets was one of the other reasons for her to be chosen for the contest according to him.
İbrahim Üzümcü has also declared that Hadise will be the main responsible person for the contest this year. She will make three songs for the contest and a TRT committee will choose the most powerfull song. The song also might be sung in any language Hadise wants. "I would want Hadise to sing in Turkish but we let her choose to sing in any language" he says. Hadise also declared according with this topic that she wants to sing mix of English and Turkish language but French also would be good option to add to the song's culture.
According to İbrahim Üzümcü, TRT wants to hold Eurovision Song Contest again in 2010 for the second time after Sertab's victory in 2003 and Hadise is the one of the powerful candidate for this plan. He also added that he does not want Hadise to feel pressure with this wish of TRT.
On Hadise's side, she is already getting excited for this contest as her biggest dream is coming true, " I would have lied if I had said: I don't want to win!" she says. She continued her declaration that she feels happy about it and she said "I wouldn't want to hear any criticism of any journalist about my dressing and show, I will try to succeed and do the best I can do."
After a journalist's question about why she rejected an offer to participate for Belgium, she replied that her choice was about Turkey and it was natural to be jealoused by Belgians as it was told that she would be the best for Belgium.
The biggest present of the day was the Hadise's poster behind the conference arena. Hadise could not hide her happiness about this big poster which, as she mentioned, included an image from her first concert in Belgium.