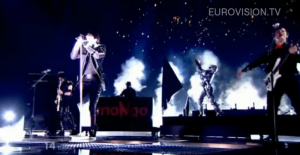 As previously announced on EuroVisionary, Turkish national broadcaster, TRT, had returned to the old system which brought success to Turkey. It's announced that their representative's name will be revealed in January 2011.
As the voting for 2011's Turkish potential representative at the Eurovision Song Contest still continues, TRT has officially announced that their representative's name will go public in January, 2011. There will be an internal selection process as used by TRT in past years. We want to remind you that you can still declare your thoughts about next participant profile via sending mail to TRT:
[email protected].
It's still rumoured that there is a tight race between Turkish world famous pop star Tarkan and promising R'n B' & pop name Atiye.
After the deal between TRT and their representative has been made, the representative will present three songs from which a committee from the music department will choose the lucky one.
Turkey first participated in the contest in 1975, and Sertab Erener, who was also selected internally, brought the country its first victory in 2003. Athena (2004) and Kenan Doğulu (2007) were chosen internally and succeeded to the fourth place. MaNga came second last year.