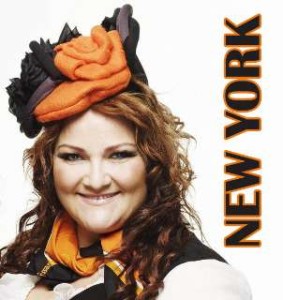 Hera Björk recently held a string of concerts stateside on both sides of the country, and her experiences in the USA have by all accounts given her an appetite for all things american. Icelandic tour operator Expressferðir have a unique offer for their customers, giving them the chance to get up close and personal to the star.
The Icelandic diva is eager to share her passion for the bustling metropolis and has therefore appealed for all interested parties to join her, be they young, old, couples, singles, family members and those who don't know her…yet! The itinerary for the trip has been confirmed and is due to leave Iceland for New York on the 6th of october. Hera Björk and guests will be enjoying four nights in the city, where they aim to make the most of what is on offer.
On the Expressferðir website, the star states that during the trip, those joining her will have the possibility to experience the hustle and bustle first hand of New York, to make the most of of the advantageous prices in the USA and to check out all the wierd and wonderful inhabitants that have made New York their home. Hera Björk also intends to immerse her fellow travellers in what the city has to offer culturally, with tickets to a musical, as well as getting to experience gospel music up close and personal with the star when visiting a gospel service. 
Those joining her on the trip won't be suffering any hardship in terms of accommodation either, enjoying a luxurious hotel in Jersey wih what are said to be stunning views of the Manhattan skyline and boasting its own cinema as well as the standard facilities such as swimming pool and gym.
Judging by the information published on the website, it seems as if the offer has proven to be extremely popular, with appartments for 4-6 people already sold out, so the minimum participating number of twenty people should be no problem for the company to attract. If the trip is a success, perhaps this will see Hera Björk branching out into the travel and hospitality industry? Let's just hope she doesn't completely give up on her recording career!
Links