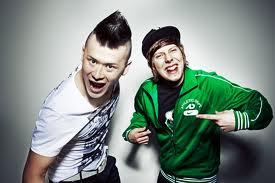 Austria's Trackshittaz were here to shake their 'popos' and win the votes of Europe.  Instead, would their rehearsal be shaky?
The Austrian song is another one that a lot of people are talking about.  It's divided opinion and people either  love it or hate it.  They are a young duo with lots of energy and they bounce around the stage rapping at us.  They appeared to be in the clothes they will be wearing next Tuesday.  That is, what they wore at the Austrian national final.
They are accompanied by three young ladies in short green dresses who spend most of the song pole dancing.  This sort of act can get away with an adult theme like that – bearing in mind the duo's name – but it's still pretty daring.  The backdrop consists of flashing beams of light making it look like a disco.  Again, the backdrop suits the song perfectly. 
The choreography was sound but the whole performance lacked a little something vocally.  Rap is not known for doing well at Eurovision – it needs a smaller stage – and the omens aren't good.  We'd like to see the Trackshittaz in the final but we'll get a better idea after the second rehearsal.
Keep watching Eurovisionary for more news about the Trackshittaz later this week when they rehearse again.