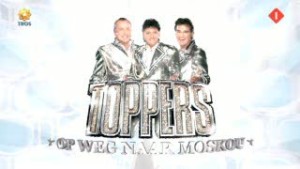 A series of documentaries following The Toppers way to Moscow was aired last night. Weekly programs will take the viewers behind the scenes in the preparations for doing well at the 2009 Eurovision Song Contest. First episode showed how difficult it is for the new Topper, Jeroen van der Boom to fit in.
When the Dutch broadcaster announced that De Toppers would be representing the Netherlands in Moscow the trio consisted of Gordon, René Froger and Gerard Joling. The last mentioned decided to pull out due to disagreements with Gordon and Jeroen van der Boom replaced him. The first program indicated that Jeroen isn't yet familiar with the extravagance and glitter The Toppers stands for. A suit he had to wear for a photo shoot wasn't quite his taste: I have never seen such an ugly suit, he directly said. Later he made clear that he might be able to accept a stone or two on a suit for the national final. They didn't listen and he had to wear a suit with thousands of stones. He wasn't satisfied and dared no one to make fun of it; him being told that overdoing it like that can be quite fashionable didn't convince him.
The broadcaster had invited everyone to send in a song for the national final. The Toppers selected themselves which six songs they wanted the Dutch TV viewers to chose between. They were not exactly impressed with the quality and when Gordon used very strong words about some of them René and Jeroen had to calm him down. Gordon's own song Shine was chosen, but at this point no one knew that he was the songwriter. He had decided not to tell the others as he didn't want any special treatment.
The three members of The Toppers invited the viewers to see how they live. Where both René Froger and Jeroen van der Boom lives a life with wife and children Gordon stands out. In his house his many shoes are displayed like it was a fancy shoe store.  Shortly before the national final Gordon was hospitalized due to kidney problems caused by medicine he was allergic to. This resulted in Gordon taking even more medicine and he threatened to take all this different medicine at once, kill himself and do the Dutch audience a favour. He is well aware of the fact that many do see him as being a bit too much.
The Dutch TV viewers can follow The Toppers on the way to Moscow in these 30 minutes programs every Thursday.