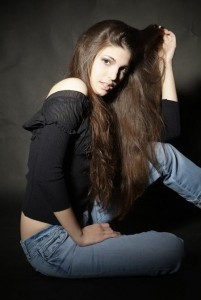 Tina Vukov is no stranger to the Croatian national Eurovision selection, the Dora.  She is a very popular recording artist and has recently released two new songs, Njemu, and a cover of Lana Del Rey's Born To Die.
Tina participated in the Dora in 2004 with Tuga dolazi kasnije and in 2006 she finished third with Il Treno Per Genova and also took part in 2007 with Tata.  Tina also competed in the Croatian pre-selection tv series to select the 2011 Eurovision performer.
Tina has participated in many festivals including the Dalmatinske Sansone in Sibenik, where she won best debutant and also the CMC festival.  She has been nominated and won special prizes at the prestigious Porin awards in Croatia.
Now Tina is back with two new songs.  The first is Njemu.  This song features Fred Cooper.  The song is a slow jazz/soul ballad.  Her second new song is a cover of the popular Lana Del Ray track Born To Die.
For information about Tina visit her official MySpace site.  You can see the videos for the news songs below.