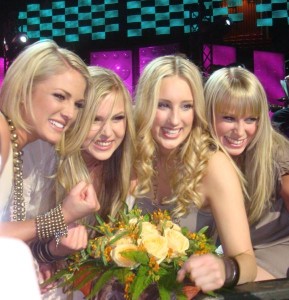 After two weeks of disappointments the expectations was high on today's Swedish semi final. There had been a lot of rumors going around that this line up was the strongest so far. And it was without a doubt, an exciting evening. EuroVisionary attended the press conference to take the pulse on the contestants.
The following acts were competing for the two spots in the final and two spots in the second chance round:
1. Song title: Headlines
Composers: Peter Boström, Tony Nilsson
Performer: Alcazar
2. Song title: Tonight
Composers: Sharon Vaughn, Anders Hansson
Performer: Johannes Bah Kuhnke
3. Song title: Doctor Doctor
Composers: Mirja Breitholtz, Tony Nilsson
Performer: Elin Lanto
4. Song title: Hur kan jag tro på kärlek
Composers: Niclas Lundin Tony Malm, Kenneth Gärdestad
Performer: Erik Linder
5. Song Title: Yeba
Composers: Tuomas (Tiny) Pyhäjärvi, Getty Domein
Performer: Getty Domein
6. Song Title: Kom
Composers: Niclas Arn, Gustav Eurén, Karl Eurén
Performer: Timoteij
7. Song title: You're Out Of My Life
Composers: Henrik Janson, Tony Nilsson
Performer: Darin
8. Song title: Heaven Or Hell
Composers: Håkan Larsson, Björn Lönnroos, Jörgen Svensson
Performer: Crucified Barbara
Result:
To the final in Globen: Timoteij and Darin
To Second chance: Alcazar and Crucified Barbara
5. Erik Linder
6. Getty Domein
7. Elin Lanto
8. Johannes Bah Kuhnke
Interviews:
EuroVisionary had a quick chat with Crucified Barbara and Alcazar before they went back to the hotel to prepare for the after-party.
Crucified Barbara
What was your first thought when they announced the result?
We didn't think that we would stand a chance when it was clear that Erik Linder was the competition! It took several seconds until we understood  what actually happened. Then of course we were really happy!
Tell me a little bit about the experience to participate in Melodifestivalen?
It has been loads of fun. We have really enjoyed this. We have all been smiling inside all the time. This is new for us and it's so much fun and everyone working with this is so professional.
Would you do this once again if someone asked you?
That will have to wait until much later. We already get to do this one more time in Örebro in two weeks. Let's just take one thing at the time.
How will you celebrate this?
We will go to the after-party of course and Getty Domein have promised us to teach us to dance.
Alcazar
You will have to go through the second chance heat once again, how does that feel?
There is no hard feelings! We are really happy to get to do this once again. We really love Darin and the girls in Timoteij are so great.
It sounds like you think it was worthy winners?
Yes of course! It's so much fun that Timoteij was through, now there will be girls in the final.
What was you first thought when they announced the result?
You get absolutely blank at first but after that we were all really happy. We now have a chance to show this act once again in Örebro.
How will you celebrate this?
We will go to the after-party and we will celebrate with all those who have helped us with our act and friends and family.
EuroVisionary would like to thank Crucified Barbara and Alcazar for taking their time and talk to us.