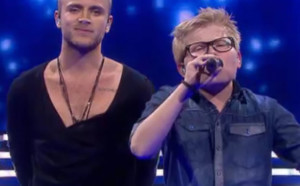 In last night's semi-final of Skjulte Stjerner (Hidden Stars), A Friend In London's leadsinger, Tim Schou and his talent 13 year old Thomas secured themselves a place in next week's final. As the only participants they have never been in the dangerzone – and last night was no exception. 
Last night four couples competed in the semi-final of DR's talent show Skjulte Stjerner where established musicians sings duets with unknown talents they work as mentor for. Tim Shou have chosen to work 13 year old Thomas who is son of Gry, who represented Denmark in the 1983 Eurovision Song Contest with the song Kloden Drejer. 
Three couples have already been voted out leaving four couples in the semi-final. One more had to leave the show last night making it a final of three duet couples. 
In the semi-final the participants had to sing two songs each; first a favourite song from the talent and second a favourite from the mentor. The TV viewers comments online about the performances and rate the songs from 1-5. However it is only televoting deciding who is in and who is out.
Karen and Mie had chosen to sing first Bleeding Love and second Karen's favourite song Prince's Purple Rain. The viewers gave them 4 and 3,5 stars online for those two songs. 
USO and Emily sang first Emily's favourite song Set Fire To The Rain and later I Need A Dollar mixed with two lines from ABBA's Money Money Money. They got 4 stars for both songs.
Magnus and Nanna first brought the operasinger quite on outfield with Stevie Wonder's As, which Nanna had picked. In second round the operasinger Magnus chose Fly Me To The Moon in Tony Bennet's version. They got 3,5 for both songs.
Tim and Thomas had first picked Thomas's favourite song Beyonce's Listen and second Tim's favourite song Robyn's Dancing On My Own. Tim said that he was more nervous than Thomas this time, but the couple appeared quite safe with 4,5 for both of their songs – and indeed they were safe. After the televoting had ended two acts were announced as directly to the final – and Tim and Thomas was called up first. Second was USO and Emily.
The remaining two couples were left in the dangerzone and had to sing again. After that the TV viewers voted again and decided that Karen and Mie gets to sing again in next Friday's final of Skjulte Stjerner (Hidden Stars). 
Below you can see videos from Tim and Thomas' performances last night. First Listen and second Dancing On My Own. To read more about the programme and the previous episodes follow EuroVisionary's topic Skjulte Stjerner.