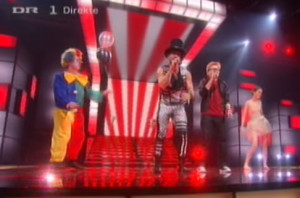 After seven weeks it had come to an end of DR's new talent show Skjulte Stjerner (Hidden Stars) where A Friend In London's leadsinger Tim Schou sings together with Gry's 13 year old son, Thomas. Right from the start this duo has been the favourite to win it all. In tonight's final they managed to live up to the expectations.
In Skjulte Stjerner well known established singers sings duets with each their unknown talent. As a mentor their job is to bring out the best in their talent so that he or she can convince the TV viewers that they have what it takes to be a star.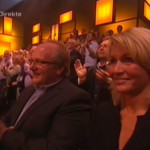 Tim Schou has been working with Thomas, the son of Gry who represented Denmark at the Eurovision Song Contest in 1983 with Kloden Drejer. Both Gry and Per Meilstrup, Thomas's father was in the audience cheering for their son – just as they have been in all the other episodes.
Tim and Thomas have through the programmes been performing songs like Katy Perry's Fireworks, Justin Bieber's Baby, The Time Of My Life from Dirty Dancing, Somewhere Over The Rainbow, Beyonce's Listen and Robyn's Dancing On My Own. 
The viewers also had the oppertunity to hear them sing A Friend In London's Eurovision Song Contest entry New Tomorrow in a piano version and their second single Calling A Friend in a special house version. As the only ones they have never been in the dangerzone in risk to be kicked out. 
In tonight's final they had chosen to sing Moves Like Jagger by Maroon 5 in first round, which Tim had made into a circus performance. The TV viewers gave it 4,5 out of 5 stars. 
In second round Thomas had to sing solo for which he had picked Whitney Houston's Run To You. The TV viewers also gave 4,5 for this performance.  
After second round a voting kicked out the 3rd position that went to Uso & Emily. In a third and last round Tim and Thomas were up against Karen and Mie. For this round they had to sing one of those songs they have used previous in the programme. Tim and Thomas chose Somewhere Over The Rainbow from Wizard of Oz and Karen and Mie sang New York New York.
After yet another voting round Tim and Thomas were declared as the winners. Thomas is no longer a hidden star, he has won the prize of 250.000 Danish Kroner and Tim has proven himself as the best mentor.
EuroVisionary has been following Tim Schou at Skjulte Stjerner and you can read more about the programme in our previous articles.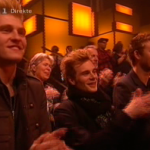 A Friend In London came 5th at this year's Eurovision Song Contest and their debut album is expected to hit the stores before Christmas. The other three band members; Sebastian Vinther, Aske Bramming and Esben Svane were in the audience to cheer for Tim and Thomas to win Skjulte Stjerner 2011.