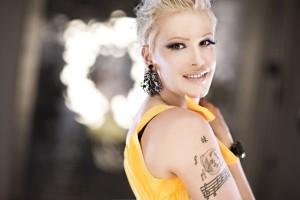 Once again MKRTV has chosen internally the artist who will represent F.Y.R. Macedonia next year in Denmark and the talented pop singer Tijana Dapčević is the lucky one who, after having failed in her previous attempts to participate at the Eurovision Song Contest, will finally fulfill her wish.
Tijana Dapčević was born in 1976 in Skopje and she was raised in a musical family since her father was a teacher in a music school and her mother was an opera singer. She is now is following in the footsteps of her younger sister, Tamara Todevska, who was the Macedonian representative in 2008 alongside Adrian Gaxha and Vrčak performing the English language version of the song Vo Ime Na Ljubovta, Let Me Love You.
Tijana has a successful career and most of her songs have become big hits in the Balkan countries where she has plenty of fans. She has also won several music contests such as the Sunčane Skale in Montenegro or the Serbian Radio Festival and she has released five albums.
She is a known face to the Eurovision fans since she took part at the Macedonian national selection twice: in 1996 singing Ti Prostuvam and in 2002 with the song Izgrev. But these were not her only attempts to perform at the Eurovision Song Contest because she also tried her luck for another country when in 2006 she participated at the Serbia and Montenegro national selection, Evropesma, where she did not even manage to reach the final.
The song that she will perform in Denmark is not known yet but, according to the musical background of the artist, it might be a pop song with an energetic pace or maybe a ballad… we can expect anything.
Such an early announcement makes her the second artist to be confirmed for next year's Eurovision after Valentina Monetta for San Marino.
In the videos below you can watch Tijana's performances at the national finals from Macedonia in 2002 and Serbia and Montenegro in 2006.