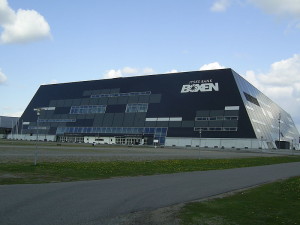 The ticketsale for next year's Danish final, the Dansk Melodi Grand Prix, kicks off in two days. The prices varies between 420 and 620 dkr for the show hosted in Jyske Bank Boxen, that can host 15.000 spectators making this the largest ever Danish final.
In just two days the largest amount of tickets for a Danish national final will go on sale. Jyske Bank Boxen in Herning will host the show on the 26th of January with an audience of 15.000. Herning doesn't have an airport, but it can easily be reached by train, so it is not unrealistic to sell out. The tickets will be priced between 420 and 620 dkr.
From Friday the 12th of October at 10:00 CET tickets can be purchased at billetnet.dk and at MCH's ticketsale at phone +45 9926 9708.
In the show ten songs will compete for the honour of representing Denmark at the 2013 Eurovision Song Contest held in Malmö, Sweden in May next year. 6 or 7 out of the 10 songs will be chosen from the 692 songs recieved via the open competition, while another 3 or 4 songs will be added via a so called wildcard handed out by the boadcaster, DR.
We know that one of the entries submitted to DR is by Brinck, who also represented Denmark in 2009 with the song Believe Again. EuroVisionary met up with him just a couple of weeks ago and in the video below you can hear him tell more about his 2012 song plus see clips from a concert. We recommend that you watch the video in its 3D format, but if you don't yet have a pair of glasses this feature can be turned off for watching in regular 2D.