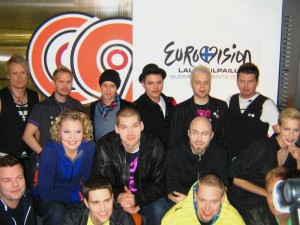 What kind of relationship do native sign language speakers have with the Eurovision Song Contest? How did Janita write her song? What did Vink say about their entry? Find out also what Jari Sillanpää's plan is.
SIGNMARK FEATURING OSMO IKONEN
"The Eurovision Song Contest is a very big thing, especially for us, our music style, and sign language. Both of them are very under represented in the Eurovision Song Contest. We have Signmark, who is a native speaker of sign language, but nevertheless, the Eurovision Song Contest is more for mainstream music, but we are different. The Eurovision Song Contest means much to us, because we differ from many others, and it would be very cool if we will be chosen." says Mahtotapa.
"Native sign language speakers have not been interested very much in the Eurovision Song Contest, but maybe they have watched the clothes and the show on stage. However, now there is subtitling and native sign language speakers can watch and understand it", tells Signmark. And Nuppu continues: "Nowadays, the organisations of deaf people arrange public galleries, for example in Jyväskylä, Seinäjoki and Helsinki."
"The first version of this entry was created in Bratislava. I was not with this group then, but they called me and played their version, and we did a new version together. We did sessions a couple of times during the weeks. But the basics of this version was created in the first session" tells Osmo Ikonen about their entry, which started from the beat, and continued with lyrics and melodies.   
Brandon says that he is keen to visit Moscow. He thinks that they are going to go there. "It is great that the contest is in Moscow. We represent also human rights and if we get chance to go to Moscow, we could tell our message there", continues Mahtotapa. Signmark thinks that they will not have problems with getting votes: "We were in St. Petersburg and we had 10000 people in the audience, so the audience will be on our side".
"We are doing our second album now. Our first album was published at the end of  2006. We have gigs and also a development co-operation project in Ethiopia", tell the team members about band's other life.
JANITA
"The Eurovision Song Contest was a kind of idol in my childhood in the 80's. I learnt texts, though I did not understand them. And of course, I participated at age of 15 in the Finnish Eurovision Song Contest selection. Then I did not win, so when I was asked to participate again, I wanted to do it. There is a good feeling, and I can perform my own music, so no-one is dictating what you will do on stage. It is a good place for an artist to be seen", says Janita.
"I wrote this song about one and half years ago. I did it in many parts, and it was inspired by life, human relationships and panic – and how to deal with it", says Janita about her entry.
Janita has never been to Russia and she would love to go to Moscow. She has had many changes in her life during the last year. "I am going alone now with a good mood, a very peaceful and stable feeling", explains Janita, who is doing her new album, which will be published in the spring.
VINK
"We have a very big will to win ", says Matti, the lead singer of the band. "Our song was born from scratch, and we have done it in a very typical way as well as doing some changes time after time. It started from a guitar riff. About half of this song was ready very quickly. We got to know at the same time that we would be participating in the Finnish Eurovision Song Contest selection, so it was very easy to choose this song. But this song is not done especially for the Eurovision Song Contest", says Ankka and Tomppa together.
This group has never been to Moscow. They have also heard that there will be a big party!
Vink are also doing their first album. There are not exact schedules yet. Vink is keen to see what happens in the Finnish Eurovision Song Contest selections. Publishing schedules of the album depends on success here.
JARI SILLANPÄÄ
"The Eurovision Song Contest is almost as great as it was then, when I was a child and young", says Jari Sillanpää. "It is of course different now, because I am now a singer and artist, and there is also occupational attitude. This is great entertainment, and if I can represent Finland, it would be brilliant. I remember from Istanbul that everything was made carefully and it was a great experience. In my opinion, the Eurovision Song Contest has become better. I like this year's entrants, because it is very varied: many different artists and music. The Eurovision Song Contest must be constructed that way. This is how to make good tv-entertainment to people. Competing is not so important to me anymore, but of course, I hope for the best result, says Jari Sillanpää, who represented Finland in the Eurovision Song Contest 2004.
He tells also about his feelings when he heard his entry for the very first time, "It was very touching. I took a fancy to the melody and to the idea of a canon. It is composed ingeniously. This idea of a canon has been used before, but it felt fresh to bring it back. It is used for example in L'oiseau et l'enfant (France 1977) and Hallelujah (Israel 1979). And I think it's fresh in a Finnish style, so I have not thought at all that this would be translated into English. If I represented Finland, this will be absolutely in Finnish, because there is so much of a Finnish aspect".
Jari Sillanpää does not know much about Moscow. He says that he has seen only photos. "It will be a positive surprise like Istanbul was, but it is also an expensive city", he says.
He talks about his future plans, "I would like to do an album of Eurovision Song Contest songs. I would put Kirkas kipinä on it, but also my favourite Eurovision Song Contest songs. I have been a huge Eurovision Song Contest fan, especially in my youth. I would like to do the songs which I have listened to during the years and which I like most, and arrange those songs as new versions. But let's see what happens!", ends Jari Sillanpää.
Links