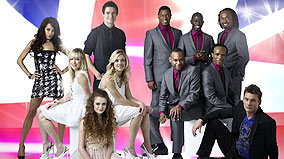 Tonight, the final six acts hoping to represent the United Kingdom in Moscow were revealed in an hour long show on BBC1
After some impressive opening credits, raising the standard of the UK selection straight away, we were treated to brief clips of some of the rejected acts. In a televised 'appeal' in October, Andrew Lloyd Webber asked anyone who was interested to send videos of themselves. It was clear that some had no idea what was required, especially the chaps who wore masks which looked like a cross between a birds face and the Phantom of the Opera.
Newly appointed commentator, Graham Norton, met last year's winner, Dima Bilan, who was in London filming his new video. He suggested to Graham that it should be taken a bit more seriously in the United Kingdom and added that in Russia, Eurovision is as big as the Olympics.
We were then shown clips from the auditions and were introduced to Francine and Nicola, Sheffield twins who work in a supermarket and (as twin's do everything together). Several solo female singers were mixed together to form two girls groups and were sent away to practice together.
Cut to Moscow and Graham shopping for souvenirs. Among the usual purchases, he also found Dollar bill patterned toilet paper and a cigarette lighter in the shape of a missile. Meanwhile, in the Kremlin, Andrew had an audience with Russian Prime Minister, Vladimir Putin. Putin said he felt that hosting the contest proves Russia has finally lifted the Iron Curtain and is truly a part of Europe.
All the acts chosen for the final audition were put through their paces by casting agent, Jane and choreographer Paul, who made suggestions, advised and even sent one contestant for a makeover.
Finally, the six acts were chosen by Andrew, who will compose the song the winner will sing in Moscow, and Colin Barlow, who is responsible for, among others, re-launching Take That. So, the six hopefuls putting themselves at the mercy of the British public are;
Charlotte – at 17, the youngest act in the show
Damien – who isn't sure what his Irish father will think of his selection
Emperors of Soul – a five-piece vocal group from London
Jade – who was a late discovery by the team after one contestant turned down the chance to compete in the live shows.
Mark – who took time out of Pantomime to audition
The Twins – the twins from Sheffield who hate being away from each other.
The public get the chance to choose their favourite in a series of shows starting next Saturday. Tonight's show can be watched again at the BBC's website, the link is below.  More information about the finalists can be found at the BBC Eurovision website.
Links