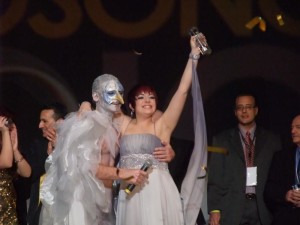 Eurosong newcomer, Thea Garrett, will represent Malta at the Eurovision Song Contest in May with the song, 'My Dream'.  Thea told EuroVisionary that she did not expect to win the contest.  Infact, she thought popular Maltese performer, Lawrence Gray, would win. 
She said her it was really like a dream that happened to her. Thea asked her mother to pinch her the day after the show to convince her she had actually won.
Thea has a classically trained background.  She can sing an operatic voice as well as pop.  This is the first time she has competed in any song competitions.  She wanted to wait for the right moment to enter the Malta Eurosong.  Thea was hoping for a top 5 placing and then build on that achievement again next year.  But winning now in 2010 is a dream come true for Thea.
Thea was recently chosen to perform in Italy with Gigi d'Alessio.  Thea performed the famous Italian singer's song, 'Apri le Braccia (Open Your Arms)' in a classical style.
Thea was also part of the tv show The Academy in Malta, where she had to perform songs each week for whatever theme that weeks show would be such as pop, dance, rock, jazz and latino.  I personally remember Thea performing in the Baystreet Shopping Mall in Malta last year, where she performed a song in a beautiful operatic style. 
'My Dream' is composed by Jason Cassar and Sunny Aquilina who wrote Chiara's 1998 Eurovision song, 'The One That I Love'.
We wish good luck to Thea in Oslo.