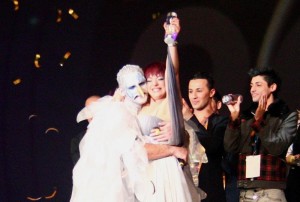 Tonight, from the MFCC in Ta'Qali Malta, Thea Garrett with her song My Dream was selected by the Maltese public to represent Malta for the Eurovision Song Contest 2010.
Thea Garrett with the song My Dream was selected from 20 songs by a combination of Televoting and Juries. Glen Vella placed 2nd with his song Just a little more love and Tiziana placed 3rd with Words are not enough.
Whilst the votes were counted, the audience was treated to a performance by Armenian singer Sirusho and Mary Spiteri. At the start of the show Chiara performed a dance version of her 2009 song What If We which she performed in Moscow. Later she performed her 2005 song Angel.
Your EuroVisionary team will continue their reporting live from Malta, a full report of tonights proceedings and a photo gallery will appear shortly.
Final Results
My Dream
Just a little more love
Words are not enough
Hold on
Velvet ocean
Save a life
Stories
Samsara
Three little words
Moments
Her name was Anne
Waterfall
Once in a lifetime
Choices
All I need
One 4 U
Good intentions
Fired up
Old satchmo blues
Broken
Links