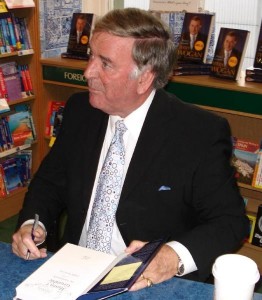 The veteran presenter Terry Wogan, who has worked for BBC television, is retiring from the Eurovision Song Contest after 35 successful years. Terry Wogan is well known for his sarcastic comments while presenting Eurovision Song Contests on BBC1.
Sir Michael Terence Wogan, more commonly known as Terry Wogan, has revealed that he has hosted the last Eurovision Song Contest of his career. "It's time for someone else to take on the job" he says.
Wogan's first Eurovision Song Contest commentaring began in 1973. Wogan, the veteran Irish radio and television broadcaster who has mostly worked on the BBC in the United Kingdom, is also well known as a radio commentator and television presenter. His humorous comments and different presenting style during the Eurovision Song Contest made him more and more popular on the BBC channel, then all over the world.
After the United Kingdom's failure with 14 points in this year's Eurovision Song Contest, he became sure he should leave the Eurovision Song Contest. He said " I was considering retiring before Belgrade this year and I am very doubtful about wanting to do Eurovision (Song Contest) again. It's time someone else took over." 
In my view
That's for sure, Eurovision Song Contest without Terry will be very different. I am afraid that the contest will lose some British Terry fans. I used to watch him live during the contest and i can't explain how much i enjoy with him and i am sure many fans will agree with me.His style were different than other channels. Iam sure Terry Wogan will never be forgotten.

 

The opinion expressed in "In my view" are those of the author and are not necessarily the one of EuroVisionary.com.