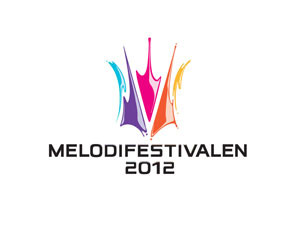 The Melodifestivalfever rises as the first eight songs to take part in the webbjoker competition were made available to listen to. The Webbjoker competition consists of four semi-finals with eight songs each. Every Monday two songs will be voted through to the final on 7 November where the winning song will be one of 32 songs in Melodifestivalen 2012.
32 out of the 570 songs that were submitted to take part in the competition Webbjokern were picked by Christier Björkman, the producer of Melodifestivalen, together with a group of employees from SVT (Swedish Television).
The remaining songs will take part in a kind of mini version of Melodifestivalen. Each Monday eight new songs will be availble to listen to at SVT's wesbite. 
The songs will be available until the following Monday when there will be one hours of SMS-voting between 12:00-13:00 CET. The winner of the voting together with a song selected by SVT will go thorugh to the final on 7 November.
In the final a winner is decided by the people and this winner will be one of the 32 songs in Melodifestivalen 2012.
For the first time SVT will use the system of only one vote per telephone number for each semifinal (only swedish telephone numbers are allowed to vote).
Semi-Final 1 – Voting on Monday 10 October:

1. Set Me Free – Trison
2. Wish You Luck – Billie Dee
3. How About You? – Keylas
4. Your Majesty – The Commoneers
5. Catch Me – Maria Klemetrud
6. I mina drömmar – Maria BenHajji
7. Seven Years – Flying Kite
8. All Day All Night – Grand Slam
Semi-Final 2 – Voting on Monday 17 October
1. For the Win – Keylas
2. What If – Nordic Shine
3. I'm Yours – Elin Jakobsson
4. Beautiful Love – David Nestander
5. Kitchen Floor – Kajsa Ingemansson
6. Se mig som jag är (om du ser)- Sören Karlsson
7. A Heartbeat Away – Demoröst
8. Through the Fire – Greta
Semi-Final 3 – Voting on Monday 24 October
1. Marilyn Monroe – Never Alone
2. Mary Doesn't Care – My Niece
3. I Didn't Wanna To Say Goodbye – Elin Jakobsson 
4. Ingenting, ingenting – Caroline Coquard 
5. Dance It All Away – Olle Andersson
6. Songbird – Vilda 
7. On the Top of the Mountain – Madeleine Ericson 
8. Stars Might Shine – Albin Loán
Semi-Final 4 – Voting on Monday 31 October
1. Need To Know – Bowties 
2. Fine – My Niece 
3. Forever By Your Side – Trison 
4. Not Over You – Felicia Vårnäs 
5. Letting Go – Jennifer
6. Higher – Patrick Egemo 
7. Box of Love – Vilda 
8. Believe – Carolina Jakobsson
The 2012 Melodifestivalen kicks off on Saturday the 4th of Februar with its first semi-final in Växjö.