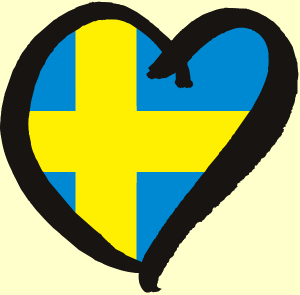 After limited Swedish success in the Eurovision Song Contest the past three years Sweden is now looking forward towards 2010. Broadcaster SVT has just opened for submission of songs that can take part in the national selection and represent the country in Oslo.
Lately there have been some discussions about if Sweden would open up for foreign songwriters to participate in Melodifestivalen, the Swedish national selection as this was indicated as a possibility in Moscow. With the set of rules being published in relation to the 2010 selection it is however clear that this hasn't happen.
Aside from the contest only being for Swedes there are a few other things to notice: Just as last year 8 people are allowed on stage, but the winning song which will represent the country at the 2010 Eurovision Song Contest in neighbour country Norway will have to adjust its performance so that it matches EBU's rule about maximum 6 on stage. Songs that last longer than three minutes can be submitted, but should they be chosen for Melodifestivalen they will have to be cut down to the allowed three minutes. As usual the songs are of course not allowed to have been publicly available before.
Sweden is for next year sticking to the same well known format with five preliminary heats, four so-called semi-finals and a second chance contest, before the big final where two songs from each semi-final, the winner of the second chance contest plus a song picked by an international jury participates.
Dates for next year's Swedish selection haven't been announced yet, but the deadline to submit entries is the 22nd of September 2009. The rules and the formula to submit songs can be found on SVT's website (In Swedish).
Malena Ernman finished 21st in the 2009 Eurovision Song Contest and the two previous Swedish participants, Charlotte Perrelli and The Ark, didn't do much better as both finished as 18th.