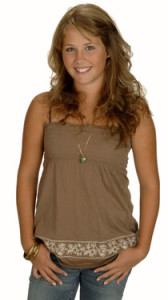 SVT has announced seven more of the artists for Melodifestivalen 2009. All of the artists that were announced are making their debut in Melodifestivalen, but some of them are well known to the Swedish audience. Mikael Rickfors and Molly Sandén both has had succesful careers.
Mikael Rickfors – Du vinner över mig (You will win over me)
Mikael has had a long career as a rock musican in Sweden. He has been the lead singer of a number of well known bands such as The Hollies, Bamboo and Grymlings. His number one hit is the song Vingar för pengarna (Wings for the money). Over the years he has been in the choir behind different artists in Melodifestivalen but this is the first time for him as a solo artist.
HEAT – 1000 miles
This is a hardrock group that has been in the business for about two years. In April 2008 they released their debut album Heat. Among other things they have opened shows for Alice Cooper och Toto.
Molly Sandén – Så vill stjärnorna (The stars wants it that way)
Molly is only 16 years old but is despite her age a well known name in Sweden. In 2006 she represented Sweden in Junior Eurovision Song Contest with the song "Det finaste någon kan få" (The best thing someone can get) and got a third place. Since then she has been a part of the Diggiloo tour (2007, 2008) and has been performing in numerous tv shows such as "Så ska det låta".
Maja Gullstrand – Här för mig själv (Here by myself)
Her big breakthrough was in the Swedish reality show Fame Factory (2003-2004). Since then she has released two albums, Hemligheter (2004) and Cirkus (2008).
Next 3 – Esta Noche
Next 3 is from the little city Norrköping and consists of three members: Jimmy Almgren, Adam Soliman and Gonzalo Flores. All the boys are 16-17 years old and none of them has any experience of Melodifestivalen. At this time the group is fairly unknown to the Swedish audience.
Jonathan Fagerlund – Welcome  to my life
17-year-old Jonathan has a background as a member of the irish boyband Streetwise. Jonathan left the band and returned to Sweden after one year since he didn't think the group developed as he had hoped. In August he released his first own album.
Rigo & the Topaz Sound feat Red Fox – I got U
Rigo, or Rodrigo Pencheff in his full name, is most known for being one of the core members of the hip hop group Infinite Mass. Infinite Mass was formed in 1991 and has had a long and successful career in Sweden with songs like "Mah Boyz", "Bullet", "She's a freak", "The Thief", and "No 1 Svartskalle". Away from Infinite Mass Rigo runs Topaz Records, a Reggae label he founded with friends in 1997.
During the week that has passed since the announcement last tuesday SVT has revealed two additional artists that will participate in Melodifestivalen 2009. Markoolio is competing with the song "Kärlekssång från mig" (A lovesong from me) and The Scotts with the song "Jag tror på oss" (I belive in us).