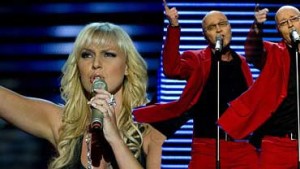 8 songs took part in the second Swedish heat that took place in Västerås. The biggest expectations laid on the shoulders of Andreas Johnson and Carola Häggkvist, but they disappointed a bit and only reached the second chance contest.
Ola – Love In Stereo: Up until 2005 football was the number one thing in Ola's life, but since he won the Idol competition in 2005 music is becoming more and more important. The song Love In Stereo is written by the couple Mirja Breitholtz and Tony Nilsson who themselves describe this song as an '80 influenced up tempo song which should give people a kick in the butt and remind them that music is love.
He gave quite a solid performance, but maybe a bit too structured. A good quick starter for the show though.
Lasse Lindh – Du behöver aldrig mer vara rädd (You don't need to be afraid anymore):
For Lasse Lindh music has always been a big part of his life and he created his first band already at the age of 16. His favourite Melodifestival song is Carola's Främling from 1983, so for Lasse it might appear as a big challenge to compete in the same heat as she is. He wrote the song himself, which tells about what you can have together with your girlfriend and the strange feeling of wanting to protect someone else against everything.
He seemed a bit nervous on stage, it was a bit too stiff and it didn't appear natural to him to stand with the guitar.
The Nicole – Razborka: Nicole grew up in Moscow, but now lives in Stockholm. She is trained at theatre, but for the past 4 years she has been writing music. One of the things to notice about Nicole is that she speaks 7 languages; Spanish, French, Greek, Russian, English, Italian and of course Swedish. She wrote the song together with Tord Bäckström and Stefan Åberg and they describe the song as commercial pop with some ethnic influences.
She was carried in on stage in a chair lifted by four men. Maybe she could use a bit of help from Morena as she was asking for vodka, but the men could not meet her needs. The vodka might have been to keep her worm as she was wearing a short dress and it was clearly snowing on stage!
Alexander Schöld – Den första svalan: For Alexander music has always been a big part of his life and when he reached the age of 17 he decided that it was going to be his career. That really kicked off in 2005 when re reached the final in Fame Factory. Alexander has Mick Jagger, Ted Gärdestad and Per Gessle as personal favourites so something might indicate a bit of rock and the songwriters Fredrik Thomander and Anders Wikström indeed also describe the song as a positive, guitar driven song.
He gave a solid performance that appeared cool and convincing, very relaxed and not trying to act too much.
Rongedal – Just A Minute: The twin brothers; Henrik and Magnus Rongedal are to some people well known as choir singers in the band Electric Banana Band who took part in the Swedish selection in 2006. Now they are ready to stand on their own feet with a song they wrote together with Amir Aly and Henrik Wikström. They describe the song as a happy party song in full disco with some falsetto song.
They were dressed in a red suit and had soft feminism movements. They singing reminded a bit of Sissy Sisters.
Sanna Nielsen – Empty room: To many fans Sanna's name is quite familiar as she took part in 2001, 2003, 2005 and again last year with the song Vågar du, vågar jag. As the youngest artist ever she reached the first position on the Swedish charts already at the age of 11! Two very experienced names; Aleena Gibson and Bobby Ljunggren wrote the song. Bobby has three times written a Melodifestival winner; 1995, 1996 and again in 2006 where Carola took his song Invincible to a 5th position in Athens.
She was very believable, felt deeply and in particular in the beginning one would have heard a needle falling in this powerful ballad.
Andra generationen – Kebabpizza Slivovitza: As the band name says they are all second-generation immigrants born by parents who came to Sweden in the '50's and '60's. None of the six members of the band has any Melodifestival experience, but they are ready to go to Serbia should the Swedes chose to send this song which the band themselves describe as an energetic Balkan song which is about being yourself and not try to be perfect.
The lead singer, in this Balkan folk music song, looked like a thinner version of Bamse from the Danish band Bamses Venner that represented Denmark at the 1980 Eurovision Song Contest. The performance however seemed inspired from Israel's Push The Button last year.
Johnson & Häggkvist – One Love: One of the favourites to win the 2008 Melodifestival is this duo. Carola needs no further introduction as she has represented Sweden three times at the Eurovision Song Contest and once, in 1991 she achieved one of Sweden's four victories with the song Fångad av en stormvind. This is the first time she will be singing a duet and as a partner she has chosen Andreas Johnson who statistically is going to win this year as in 2006 he came third and in 2007 he came second with A Little Bit Of Love – with those stats it could point towards a first position in 2008. They wrote the song together with Peter Kvint and describe the song as a powerful explosion of love and music.
They sing the song well and they are two great performers individually, but on stage it didn't quite work. It appeared like they were both trying to claim the stage as theirs.
Through to the final are Sanna Nielsen and Rongedal while Johnson & Häggkvist and Ola will be giving a second chance to reach the final.
In 5th position came Andra generationen, 6th position Lasse Lindh, 7th position Alexander Schöld and the unfortunate last place went to The Nicole.
http://uk.youtube.com/watch?v=n1kxWzrhEGo
http://uk.youtube.com/watch?v=ipuMs9nRgLo
In my view
One could have assumed that Carola and Andreas Johnson, as the biggest names, would have been sure to reach the final, but this song simply wasn't strong enough and the performance showed that they had some difficulties sharing the stage with each other.

It might have come as a bit of a shock for Carola not to reach the final, but sometimes she has indeed appeared untouchable so it might be a healthy shock for her.  

The opinion expressed in "In my view" are those of the author and are not necessarily the one of EuroVisionary.com.